Inclusiveness and Diversity
Taking Action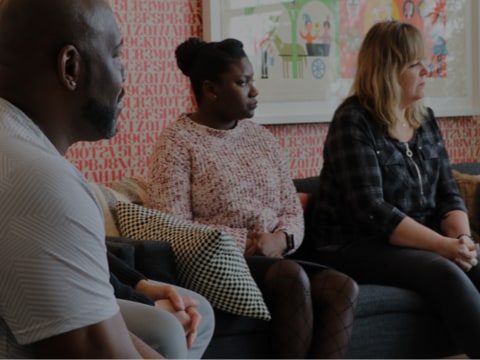 What We're Doing to Become More Diverse, Equitable, and Inclusive
At Herman Miller, we're holding ourselves accountable in pursuit of social justice.
As a company, we aspire to create a diverse and truly inclusive community—but we acknowledge that we have work to do. Like the rest of the world, we have witnessed the tragic and senseless killings of Black people in the United States, including George Floyd, Breonna Taylor, Ahmaud Arbery, and so many others. We know we don't have all the answers to ending the racism and oppression that have persisted in the US for generations, but the biggest mistake we can make is doing nothing at all.
Our work starts within our company, but it extends much further—across our industry and into all the places around the world where we live and work. Together, we are working to create an equitable environment with greater opportunities for the Black community and other underrepresented groups. Here's a summary of what we're doing to redesign the future.
For Our Company
Herman Miller Group policies, practices, and programs will be more intentional, beginning with the following commitments:
Increase Representation and Retention
We know that a diversity of ideas drives creativity and innovation, so we will increase the diversity of our employee population by recruiting and hiring a more racially and ethnically diverse workforce across all areas of our business. Our attraction, hiring, and retention goals will help shape a workforce that reflects our communities.
Ensure Pay Equity
Our commitment to equity must extend to the economic opportunity we provide every employee. We are committed to equal pay for equal work regardless of race, ethnic background, or gender and we will continue to work with external experts to regularly review our compensation programs in order to uphold this commitment.
Commit to a Living Wage
While the cost of living differs from country to country, state to state, and even city to city, we are committed to paying a living wage to all our employees. We will hold ourselves accountable for this commitment through regular and ongoing review of our compensation and benefits programs so that they reflect a living wage in every community where we work and live.
Support Equitable Career Development
We will design training and career development programs to achieve more equitable representation, foster a more inclusive culture, and help all employees recognize bias. This includes building our leadership development programs to equip our leaders to avoid bias as they coach and develop their teams. And in partnership with our Equity Teams, we will use transparent and objective criteria to identify opportunities for career development and remove barriers to advancement that impact all underrepresented groups.
Across Our Industry
We know that equal opportunity and diversity in our industry start with education. We pledge to work with our partners and competitors alike to create a more inclusive pipeline of opportunity in the following ways:
Establish a Design Collaborative
We can make a greater impact if we work collectively across our industry to drive change versus pursuing change alone. With that in mind, we will partner with design industry peers to launch a design collaborative aimed at providing underrepresented students with funding for design education opportunities and exposure to the international design community.
Provide More Inclusive Opportunities
We will evolve our college internship program to ensure it is both inclusive and accessible to underrepresented students. We will create pathways to manufacturing from high school for graduates who are interested in these careers.
Hold Partners Accountable
We will increase diversity across all our partner networks: designers, suppliers, vendors, and consultants. To achieve this goal, we will improve our onboarding processes to set up emerging partners for success. And we will leverage our influence to encourage the same level of commitment from our dealers and other partners across our global ecosystem.
In Our Communities
We recognize the need for community activism, engagement, and financial support—all of which are critical to successfully changing the status quo. We will become more deliberate in our actions, including in the following ways:
Lower Barriers to Voting
By empowering our people to stand up for what they believe in, we are ensuring they are better equipped to use their voice for change. Beginning November 3, 2020, Election Day will be a paid company holiday so our US-based employees can freely exercise their right to vote and do their part to shape the future of society. Outside the US, this day will be recognized as a global day of community service.
Donate a Portion of Our Profits
Through Herman Miller Cares, our philanthropic arm, we will continue to donate 1.5% of our pre-tax corporate profits to causes that tightly align to our corporate strategy and to our values. We believe we are all extraordinary, and a portion of our pre-tax donations will directly benefit organizations that promote diversity, equity, and inclusion.
Support Nonprofits With a Shared Purpose
In addition to its philanthropic commitments, Herman Miller Cares will continue to seek out nonprofit organizations to partner with that are committed to making positive change in our communities. We will be even more deliberate than before in aligning ourselves with those organizations that share our passion for equity and justice.
Herman Miller is built on the belief that every employee brings a valuable perspective to the table. Find out more.