Living Office
Furnishings
& Tools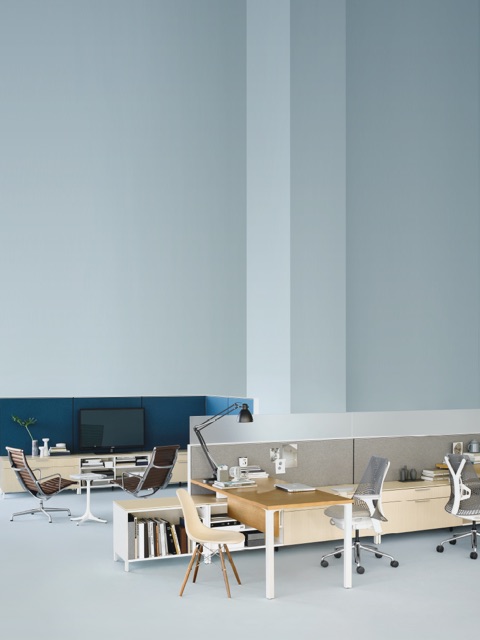 Equip your people to do great things—so your organization will, too.

At the office, furniture and tools can help or hinder your success. With our diverse product portfolio, you can give your people what they need to achieve their goals.

Aeron
While its iconic form has remained largely unchanged, the Aeron Chair has been remastered from the casters up to meet the needs of today's work. With the help of original co-designer, Don Chadwick, we thoughtfully updated the chair based on the latest research around the science of sitting, and advancements in materials, manufacturing, and technology.
Byne System
Byne System is an all-in-one office solution that fosters freedom in the workspace. Byne merges the best aspects of four of our most beloved desks with one new design for a product that helps you plan your space
Sabha Collaborative Seating
Sabha Collaborative Seating is a highly flexible and comprehensive offering. Benches, one-, two- and three-seater options, built-in surfaces and functional occasional items come together to create the ideal counterbalance to personal workstations. Instant access to power, wide fabric and finishing choices, and lighting designed specially for Sabha are vital elements across the whole collection.

Ratio
The Ratio height-adjustable desk enables a smooth transition between sitting and standing. Users can vary their posture as they need to find the right balance between sitting and standing throughout the day. Ratio can be specified as single desks or in unlimited clusters, working with our other desking solutions to complete any floor plate.
Public Office Landscape
The more people connect, the better they work. Public transforms every part of the office – including individual desks – into places for collaboration. It's the first office system to support casual work and to provide comfort at the desk, in circulation spaces and in group areas while maintaining design consistency. Visually uniform with modular surfaces, storage and seating, Public can be configured into a broad range of settings that encourage fluid transitions between collaborative and focused work.
Outfitting your living office
Whether your organization is more formal than casual, or more uniform than diverse, Living Office recognizes that each organization is different. With a variety of furnishings and tools tailored for Living Office environments, Herman Miller can help you create workplaces that reflect the character of your people and work.