Living Office
Furnishings
& Tools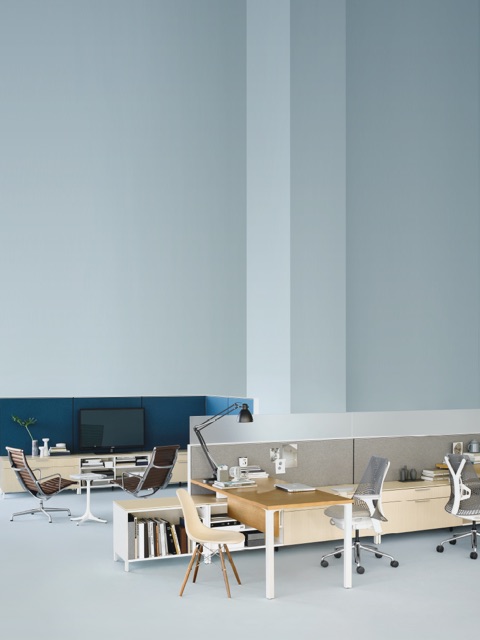 Equip your people to do great things—so your organization will, too.

At the office, furniture and tools can help or hinder your success. With our diverse product portfolio, you can give your people what they need to achieve their goals.

Aeron
While its iconic form has remained largely unchanged, the Aeron Chair has been remastered from the casters up to meet the needs of today's work. With the help of original co-designer, Don Chadwick, we thoughtfully updated the chair based on the latest research around the science of sitting, and advancements in materials, manufacturing, and technology.
Locale
A thoughtful combination of Locale's elements can be used to create a Clubhouse Setting: a working neighborhood uniquely tailored for high-performance teams. In a Locale-outfitted Clubhouse, people can freely and intuitively cycle from individual work to collaborative group and social activities. With close proximity to each other and to everything they need to comfortably complete their tasks, people can be more focused, creative, and free to do their best.
Sit-to-Stand Solutions
When people are able to move throughout the work day, their health and performance improve. Herman Miller's portfolio of sit-to-stand solutions provide the variety people need to sit well, stand well, and be well, so both individuals and the organization can prosper.

Exclave
Exclave helps people participate more fully in the work of solving problems and generating ideas. It's a thoughtfully cohesive suite of products—from boards that stack, to carts that move them, to tables and rail-hung tools that get everyone involved. Together, these products help people and teams collaborate to develop and share their work more fluidly and spontaneously across the office landscape.
Meridian Storage
Storage can do so much more than keep things organized and out of sight. Meridian works across the landscape by creating boundaries and providing places for people to gather, while as an attractive focal point for a space.
Outfitting your living office
Whether your organization is more formal than casual, or more uniform than diverse, Living Office recognizes that each organization is different. With a variety of furnishings and tools tailored for Living Office environments, Herman Miller can help you create workplaces that reflect the character of your people and work.