Designed for both comfort and health
We introduced the Ergon chair in 1976 after renowned designer Bill Stumpf conducted 10 years of research into how people really sit when they work. Stumpf's research focused on the following:

Consultations with orthopedic surgeons and cardiovascular specialists to understand the effects of chairs and the seated posture on the body's circulatory system, muscles, and bones.
Examination of the human behavior of sitting-the motions, actions, and posture patterns of people performing various tasks.
Exploration of how work chairs can be designed to support a wide range of body heights, weights, and shapes effectively.
The Ergon chair revolutionized office seating because it was designed for both comfort and health. The chair quickly and easily adjusted to various body sizes and proportions, and it reduced physiological stress by providing exceptional spinal support and unrestricted blood flow. Because they sat at computers for long periods, air traffic controllers and NASA engineers were early fans. For the first time, businesses could provide their workers with seating designed for the way they really sat—not for the way someone thought they should sit. With the Ergon chair, we established the reference point for comfortable, healthful, and visually appealing ergonomic seating.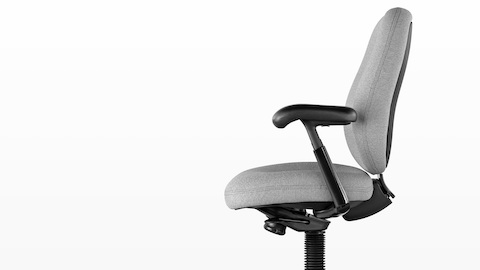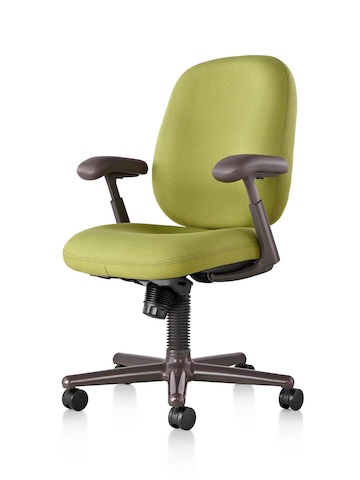 In the years following the Ergon introduction, we continued our research. As offices became computerized, people increasingly needed chairs that provided comfortable and healthful support for task-intensive environments. As a result of ongoing research, in 1988 we introduced Stumpf's Ergon 2 chair, which featured even more refinements to support people who sit for long hours.
The Ergon 3 chair does not represent a radical redesign of the original Ergon models. Nor does it represent a departure from the ergonomic solutions provided by the Ergon and Ergon 2 chairs. Rather, it incorporates refinements and enhancements to meet the needs of a changing workplace and work force.
Millions of satisfied customers around the world enjoy the extraordinary comfort and support of Ergon and Ergon 2 chairs. Today's workplace requires new work chair performance. The design criteria of the Ergon 3 chair respond to the greater variety of sizes and shapes in today's population, as well as the greater variety of activities individuals perform in a day. Continuous customer evaluation and feedback about previous Ergon models also drove enhancements incorporated into the Ergon 3 chair. Emerging seating codes and standards were major influences as well. And, of course, the Ergon 3 chair benefits from our 30 years of continuous research into ergonomic seating and the people who work in offices.