Wistia
Having an always-evolving culture prepared Wistia for just about anything—including an office environment that changes daily.

Cambridge, Massachusetts, US
Download PDF (2 MB)
In 2006, online video was in its early stages. YouTube was only a year old, and Vine wouldn't debut for another seven years, but Chris Savage and Brandon Schwartz—both Brown University students at the time—recognized the growth potential of the medium and saw an opportunity to enter an industry where the rules were still being written. Having no previous business experience, Savage and Schwartz ventured into the world of marketing, data, and video analytics with nothing more than an idea and a name—Wistia.
As online video started to grab more eyeballs, Wistia went into fast forward and quickly outgrew its first space (a 10-person house) and eventually outgrew two more. Unsure of what the company would become—but optimistic about its future—Savage and Schwartz decided to look for a much larger space to handle their growth.
"At the time we were only 20 people moving into 14,000 square feet, which felt overwhelmingly large," Savage said. "But we were also aggressively growing and knew we needed a lot of open space and flexibility for that growth."
The space gave Wistia plenty of room for cultural expression—something that Savage believes sets the company apart. As he put it, "It's is kind of our unfair competitive advantage." You see that culture in a variety of ways—from the disco balls on the ceiling to Lenny, the office dog, to eye-grabbing posters, pillows, toys, to a large mural reading "Stay Weird."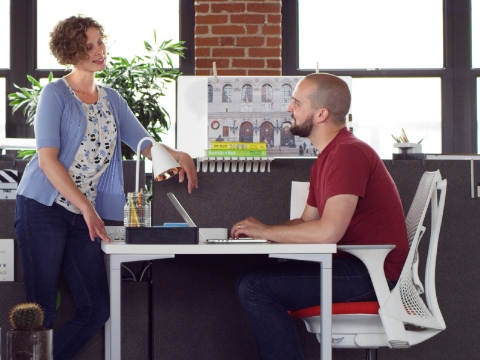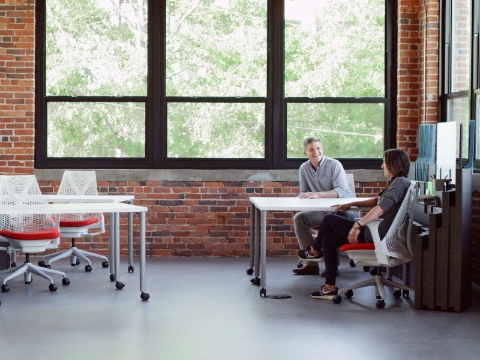 Then, there's Wistia's migrating style of work. On a typical day, employees roam from one work area to the next—from a desk, to a couch, to a kitchen table, back to the couch, and so on—as they go to settings that support their work. Savage and Schwartz wanted to encourage this flexible approach to work, but their existing furniture wasn't ideal for supporting it.
What Wistia needed was a solution that synched up with its uninhibited style of working. That's when Joe Ringenberg, Design Lead at Wistia, took on the challenge of reorganizing the space—with help from Herman Miller.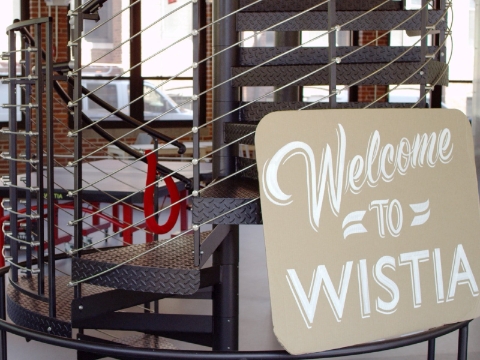 The character of Wistia's Cambridge offices and the everchanging needs of its digital workforce made Wistia an ideal beta site for field testing Metaform Portfolio, a system of lightweight, foundational blocks a team can put together, take apart, and rearrange to suit their needs.
Metaform was designed for an always-active culture like Wistia's—where change is a constant and people aren't afraid to hack an environment to allow it to better support their work. According to Ringenberg, that's where Metaform Blocks excelled. "They're so light and tremendously easy to move," he said. But mobility was only part of the equation.
Wistians, as employees are affectionately known, became more acquainted with Metaform, and their creativity took off. This was evident in both group and individual settings. Laura Powell, Operations Specialist at Wistia, explained how the company made Metaform their own: "The way we've seen (Metaform) be most useful is to create a bunch of different settings and then just let people flow freely in and out," she said.
Ringenberg added, "Metaform empowers the people in the space to take control of it, to feel ownership over a set of modular parts that we can continue to rearrange according to our needs."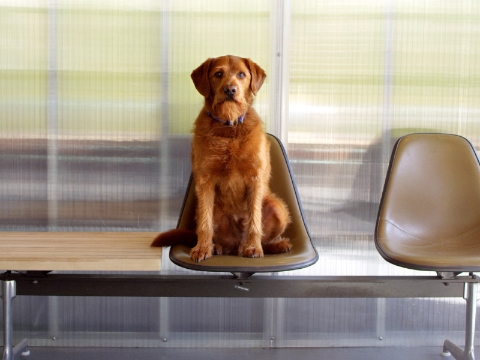 As for the vastness of Wistia's space? According to Powell, Metaform helped solve many of those challenges, too. "There's plenty of work that needs to get done that a totally open office doesn't always support," Powell said. "So being able to create spots that feel separated from the office but not so isolated that they create an unnatural degree of separation—that's been a great use of Metaform for us."
When it comes to work, there are no rigid guidelines or rules at Wistia. Since Metaform can change, reconfigure, and move with ease, it fit right in with the team's migrating dynamic. "We don't want to prescribe one way which the office should work," said Powell. "We want to create an environment where no matter what your background or working habits are, you'll find a way to be comfortable and productive and feel at home and relaxed in that space."
Going forward, Wistia knows that change will be a constant theme, and that being open and ready for that change will be critical. "As we grow, as we change, we're absolutely going to have different requirements of (Metaform)," said Ringenberg. "Feeling empowered to change it quickly and trust that it can serve our needs takes a lot of the fear out of that growth."