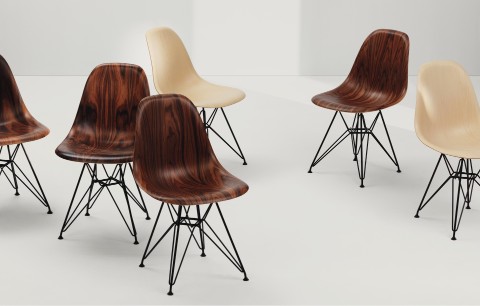 Story by
Sam Grawe
Photography by
Carl Kleiner
People sit for many reasons. They sit to rest, to work, to eat, to draw, to talk, to listen, to wait. Each situation (pardon the pun!) involves a totally different set of values in designing chairs functionally adapted to these various purposes.
The story goes that George Nelson didn't want visitors to linger in his office at Fortune magazine. In a manner typical of his particular genius, he devised a solution to this quandary in the form of a slatted bench running along one wall. The slats certainly held aesthetic value, but, more significantly, they served as a kind of discomfort-based timer—overstay your welcome, and the bench would begin to tell your posterior it was time to move along.
The example of the bench demonstrates an effective articulation and manipulation of the criteria for seating Nelson would lay out some 20 years later in Herman Miller's 1964 catalog. Function and purpose, human anatomy, the psychology of the occasion, and physical properties all come together to solve a particular problem—in this case, Nelson's distaste for unscheduled interruptions.
While the catalog text claims that, "Herman Miller chairs maintain their timeless qualities" (seemingly quite accurately, given the number of chairs from 1964 that Herman Miller still manufactures and distributes), it is perhaps even more assuring that our thinking also remains timeless. Although the world has changed significantly—considerably altering the framing and context within which we examine these qualities—concerns of function and purpose, human anatomy, the psychology of the occasion, and physical properties still guide how Herman Miller thinks about seating.
Many of the basic activities of work remain similar, but how we go about them is now wildly different. If we consider function and purpose, the mobility of today's technology means people are no longer bound to a desk. But at the same time, tasks that once required getting up and moving around (like sending email) can today be done entirely while seated. Granting this, a widening range of settings and a greater variety of seating may now be considered suitable for work.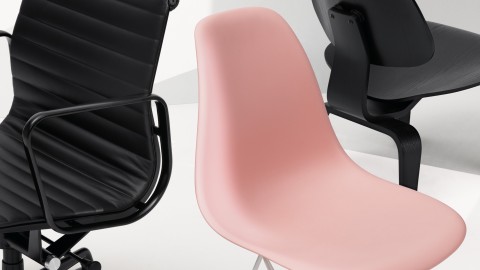 Fundamentally, human anatomy hasn't changed in the last 50 years, but we now know more than ever before about how the body actually works—and Herman Miller has applied that knowledge to the development of increasingly effective ergonomic chairs. For instance, we now understand that staying in one position reduces the natural pumping action of the muscles that delivers nutrients to the intervertebral disks. We also understand that as more people are spending more time in a variety of seated postures, it's important to support the sacrum to sustain the forward tilt of the pelvis, which restores the natural spinal curvature—improving posture and muscle balance and thereby reducing fatigue and increasing endurance.
Work today can be just as formal as it's always been, but it can also be more relaxed and social—and even within the same company, there's wide variation based on roles, departments, and colleagues. The spectrum of social dynamics—or the psychology of the occasion—that people are accustomed to experiencing outside of work has become increasingly relevant inside the workplace as well. Today's designers are tasked with accounting for a far broader range of experiences than the workplace designers of the past. For instance, while 50 years ago it might have been unthinkable to introduce a relaxed living-room type of setting for all but the highest-paid executives, today we understand its broader value and appeal.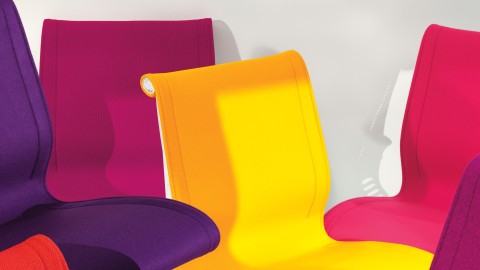 If fiberglass and plastics represented the vanguard of material innovation in Nelson's time, today's most valuable material is data. While physical properties are no less important to a chair's construction—and we are always striving to make things better—a chair's digital properties will play increasingly important roles in the future.
We believe that chairs are not merely functional tools, they are also cultural ones. Our point of view—in refinement since before the time of Nelson's bench—has led us to the greatest range of seating in our history. Chairs that were once intended solely for lounging are now viable options for working. Chairs that were once intended for the office have found their way into our homes. Performance attributes and technologies that led us to the development of innovative ergonomic work chairs have been applied to lounge chairs, with entirely original results. Today, Herman Miller seating is more complex, more beautiful, and more purposeful than ever before—just like life itself.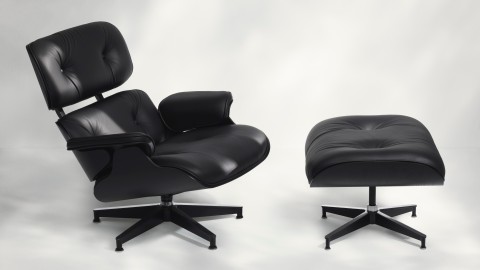 Living in a Material World
Creative Director of Materials Laura Guido-Clark explores how materials can support an organization's culture and people.