Living in a Material World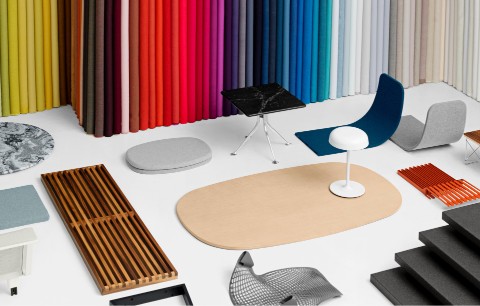 Story by
Curt Wozniak
Photography by
Charlie Schuck
Styling by
Nastasha Felker
Laura Guido-Clark shares her approach to selecting materials to support an organization's purpose—and, more importantly, its people.
With Living Office, Herman Miller recognizes the power that the built environment offers in shaping the experiences of people working together. To better understand the subtle—and not-so-subtle—ways that colors, materials, and finishes can contribute to the environment and enhance those experiences, we turned to our Creative Director of Materials,
Laura Guido-Clark.
From her studio in Berkeley, California, Guido-Clark and her team have worked with a wide variety of clients in areas that range from commercial interiors to personal electronics, and from toys and games to automotive. Since 2013, she has been engaged with Herman Miller on various projects—including a recently completed refresh of the entire materials offering, as well as an ongoing research project on the relationship between color and the human experience.
Guided by an approach she calls Climatology, Guido-Clark takes an inside out approach to designing materials. Unlike traditional trend forecasting, Climatology involves taking "temperature readings" of the current emotional, political, social, and economic environments and breaking them down into human values and emotions. Once a collective desire is determined, a palette and materiality are created to evoke that emotion. "My colleagues and I want to understand the human experience in a much more holistic way," she says, "and we come at it from a materials point of view."
To bring ease and calm to a setting where as many as five work activities need to be supported—often simultaneously by different resident team members—Guido-Clark created this palette built upon greens and neutrals. "The whole palette is indicative of the outdoors, layering neutrals and greens much like what happens in nature, building in intensity, buy perceived as holistic," she says.


A re-imagination of the classic pairing of tan and navy, this sophisticated palette supports a range of focused to collaborative activities. "The tension between the colors is lovely," Guido-Clark says. "There is a spirit of vitality, but with an underlying earthiness."

An understanding of sensory experiences provides the foundation for Guido-Clark's work. To create a richer experience, she encourages designers to layer contrasting materials—warm and cool colors, smooth and textured surfaces. "The people using a space every day may not know why it feels a certain way, but they feel it," Guido-Clark adds.

What does materiality mean to you?
I view materiality as a concrete expression that evokes a multi-sensorial response. For me, I can't think of it as just the skin without also thinking about the heart. The heart of it is what it's trying to express, and the skin of it is what it looks like visually—what it might feel like. But the heart of it is what it's saying, what it's trying to evoke. That is how I think of materiality. That is why I think it's so important.
What does that mean for an organization looking to create a Living Office?
It's truly an expression of itself through materials. We know that to create a more human environment, we have to understand the depth of materiality and how it affects people—from hard to soft, from neutral to color, from warm to cool. Materials, particularly the color of materials, create an emotional layer within a setting. I love this statistic: Most subconscious opinions of a product or a place are formed within the first 90 seconds of seeing it. And between 60 and 90 percent of those opinions are based on color alone.
Speaking of statistics, can you share some of the insights from the research work you and Herman Miller have undertaken?
Our early findings and analysis indicate a connection between the materials used in a space and that space's ability to optimally support different activities. For example, spaces for independent, focused work require a softer, quieter palette, while spaces that are highly interactive require choices that are bolder or more saturated.
As this research continues, what more do you hope to learn?
It's important to think of materials not singularly, but in relationship to the whole. So our studies are designed to learn about how materials can be combined to provide a context for a person's intention—for what they hope to accomplish in a particular setting.
How has Living Office reshaped the Herman Miller materials offering?
I want to drive a process of material selection through emotion, not by category. I don't want to say, for example, that we need five laminates; I want to understand more about what all of us need as human beings—to understand more about the workplace, and our changing needs within it. I think when you work backward and you think about who people are and what they need to accomplish and the types of work they are doing, you become so much more in touch with what colors, textures, and patterns could help facilitate that—instead of being driven by the typical requirements of a material category or price grade. And Living Office has really given us a platform for this approach.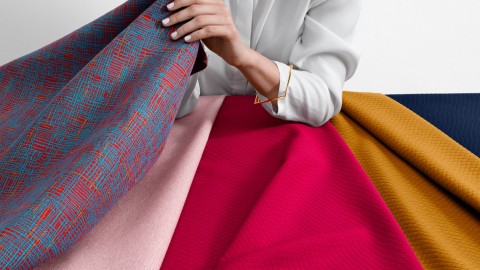 It's Alive
Living Office applies a deeper understanding of what makes us human to help create workplaces that deliver a more natural and desirable experience of work for people, and fuel greater outcomes for organizations.