Environmental Advocacy
rePurpose Program
Our rePurpose program helps you give new life to things your organization no longer needs. Your furniture—or whatever asset you need to dispose of—goes to deserving nonprofits in your backyard and around the world, which lets them focus scarce funds on their mission. You immediately transfer title, which frees you of any liability. You might also be eligible for a tax credit for the fair market value of the items donated. Most important, the earth benefits from what it doesn't get—waste that would otherwise clog its landfills.

Tangible Business Results
The rePurpose program provides you tangible business results in addition to being a socially responsible solution for disposing unwanted corporate assets. When you rePurpose, you might be eligible for a tax benefit for the fair market value of the items donated.
Perhaps most important, the program ensures immediate title transfer to the receiving organization. This frees you from the risk and costs associated with liability. You also get a strong sustainability story you can use with internal and external audiences. Choosing to rePurpose demonstrates your stewardship of resources by diverting unwanted assets from landfills. It is a concrete way that your organization can act on its commitment to preserve and care for the environment.
Kind to the Earth
In addition to you and the beneficiaries, the earth benefits from the rePurpose program. Using the program significantly reduces the amount of unwanted assets going to landfills. Currently, our research shows that when organizations replace furniture, three-quarters of it is disposed of and one-quarter is reused. Of the three-quarters that is disposed, 67 percent ends up in landfills.
Also, our research indicates that using rePurpose to dispose of 100 offices reduces carbon emissions by 37.5 tons. Most important, the rePurpose program helps to transform the disposing of no longer needed furniture from a negative impact on the earth to a positive charitable donation. LEED (Leadership in Energy and Environmental Design) recognizes the importance of programs such as rePurpose and its contribution to earth-friendly design. LEED awards points for proper disposal of furniture.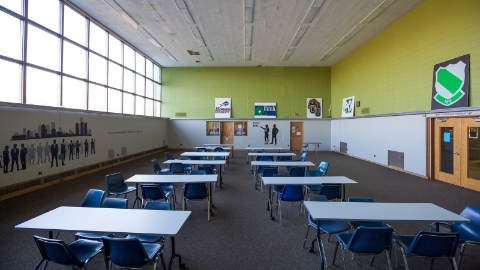 A Turnkey Approach
The whole rePurpose process simply requires you to contact us. Once your project is registered, we do all the rest. We manage the process from beginning to end so your business can spend time focusing on your work and not your unwanted assets. And the program isn't limited to furniture.
We'll help you properly dispose of copy machines, paper clips—even the excess letterhead that has the former name of your business unit. All these items are of value to nonprofit groups in your immediate community and around the world. In fact, part of the rePurpose program allows you to suggest deserving nonprofits for consideration.
Want to learn more about rePurpose? Contact us.
GM Builds Stronger Communities for a Better World
As the first metro-Detroit based automaker to partner with rePurpose, giving new life to no longer needed corporate assets is just one way General Motors is transforming the automotive industry. So when the company's leaders began a large-scale transformation and decommission project at GM's Technical Center in Warren, they turned to the Herman Miller rePurpose program to responsibly dispose of their existing office furniture.
"Every single piece of furniture and equipment inside the spaces we're renovating is being evaluated, to make sure we find the best possible repurposed use for each item," said Candice Messing, program manager, General Motors Global Technical Center Transformation. "This is an awesome opportunity for us not only to transform GM's work environment and culture, but also to benefit the communities in Michigan where we live and work."
According to Messing, rePurpose is unique because it's a turnkey solution that benefits everyone.
Tens of thousands of materials – more than 2,000 tons altogether – from GM's Tech Center, Milford Proving Ground, and its global headquarters in Detroit are being diverted from landfill and donated to about 100 community organizations across Michigan, with a focus on Detroit. The value of in-kind donations is expected to reach about $1 million.
Given GM's deep involvement in the revitalization of Detroit, the partners are taking this rePurpose project one step further with a three-room makeover at Cody High School in Detroit. In addition to furniture and equipment donations from GM, Herman Miller and its local dealer, MarxModa, are redesigning three multi-purpose and parent-teacher spaces to enhance the educational learning environment for students and faculty.
"We're so thankful to GM and rePurpose for helping to re-visualize and improve our spaces, so they can better serve the needs of our students," said Johnathon Matthews, Principal of Cody Academy of Public Leadership. "This program exemplifies the kind of corporate and community partnership we rely on to thrive and succeed."