How Do You Inspire Creativity at Work?
Case Study: Dentsu Canada, Media and Digital Marketing, Toronto
Check out an open office that's designed to help people feel more creative and connected to each other.
Dentsu Canada is in the creativity business. With 17 unique media and digital marketing agencies under its umbrella, Dentsu Canada uses their combined capabilities to win multimillion-dollar accounts with Fortune 100 companies. To build on the success of this inter-agency approach, Dentsu Canada decided to move all of its brands under one roof.
The company's primary goal was to inspire creativity at work, so its people could win more business with potential clients. It wanted colleagues from different agencies to begin forging relationships with one another, start sharing ideas, and get comfortable working together on projects. "I wanted people to have a cool space, so they would feel like doing cool work," says Kai Exos, Chief Creative Officer of Dentsu Canada Entertainment.
Herman Miller is in the business of helping companies create cool spaces. Together with Ray Inc. and our local dealer, Workplace Resource, we drew on the power of Herman Miller Group's diverse mix of modern furnishings to help Dentsu Canada design a connective and creative open office.
"The new office has been transformational to our business. It's bringing to life our network's vision of all of our brands working together."
Philip Filippopoulos, Chief Financial Officer and Chief Operating Officer, Dentsu Canada
Three Ways to Spark Creativity

Everyone's creative process is different. That's why it's important to offer people a variety of spaces where they can come together and get a little noisy during brainstorming sessions or hideout and puzzle over a complicated problem. Here are three things to check off the list when you're planning a workplace that will give people a creative boost.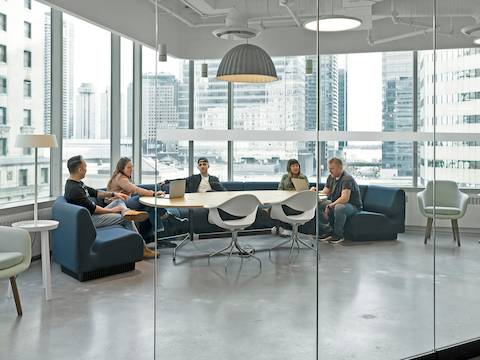 1. Enhance Collaboration
Dentsu Canada's new open office is intentionally designed to promote cross-pollination among people from different agencies. A variety of settings throughout the office, including community spaces like this one, invite people to gather. And when people feel comfortable when they get together, they are more likely to share ideas and help each other solve problems—two great ways to spark innovation. Providing comfort and style in this space are Herman Miller's Chadwick Modular Seating paired with a trio of Nelson Swag Leg Armchairs, also from Herman Miller. Geiger's Saiba Side Chairs and Eames Upholstered Molded Plastic Shell Chairs from Herman Miller sit on the sidelines.
"We wanted to create a space where people felt comfortable, where they could connect, and share and feel inspired."
Kate Dobrucki, Vice President Communications, Dentsu Canada
2. Provide Privacy
In an open office, noise control, privacy, and the ability to focus are top concerns. In fact, interruptions at work happen every 11 minutes, on average, and it may take up to 25 minutes for a person to regain focus after they've been distracted. That's why the Dentsu Canada design team interspersed furnishings like these Framery O Office Phone Booths throughout the building. Enhancing work that requires focus, these office pods offer full enclosure and a high level of noise control for people who need complete quiet for concentration.

1. Mark, Gloria. "Multitasking in the Digital Age," Synthesis of Lectures on Human-Centered Infomatics, University of Southern California, 2015.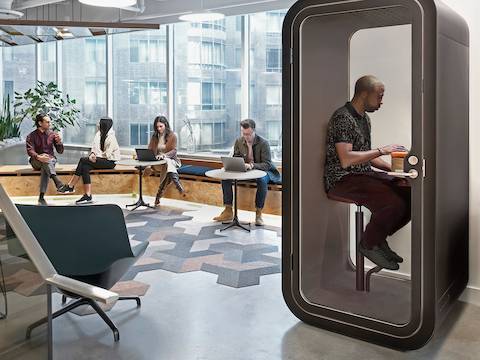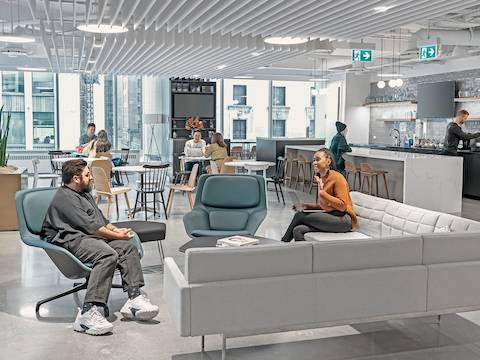 3. Encourage Socializing
Dungeon-like breakrooms in the far recesses of a building are a thing of the past. At Dentsu Canada, the café is a bright, centrally located space that draws people away from their desks throughout the day. Residential vibes entice people to take a few moments to relax and enjoy time with colleagues. It's also the type of space people want to show off to clients and friends. In fact, an employee survey reports a 39 percent increase in the number of employees who are proud of their new office. In this space you'll find a robust showcase of products from Herman Miller Group's family of brands. These include a Tuxedo Sofa from Geiger, a duo of Striad Lounge Chairs from Herman Miller, and a mix of dining chairs from DWR and Herman Miller.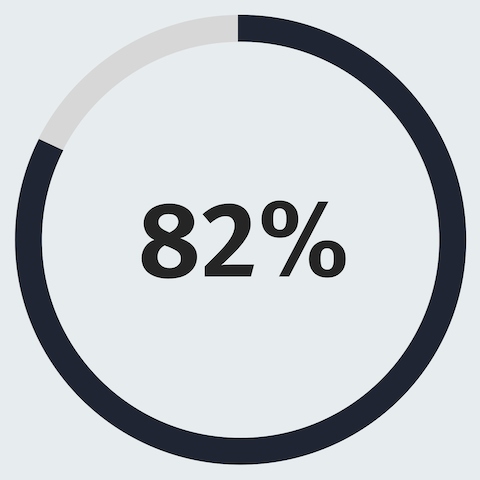 Boost in Employee Pride
More employees said they are proud of their workplace after the move.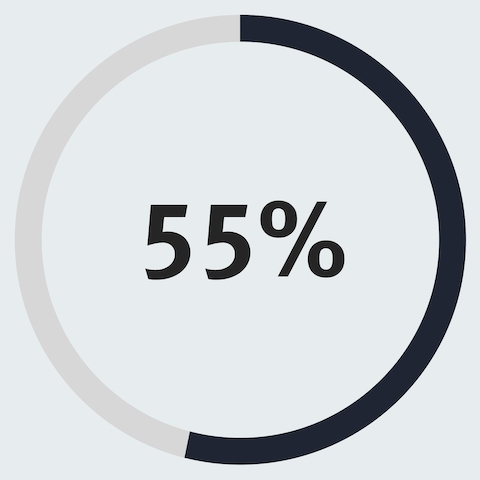 Better Collaboration
Survey respondents said their ability to work together has improved.