Focus on Building Your Brand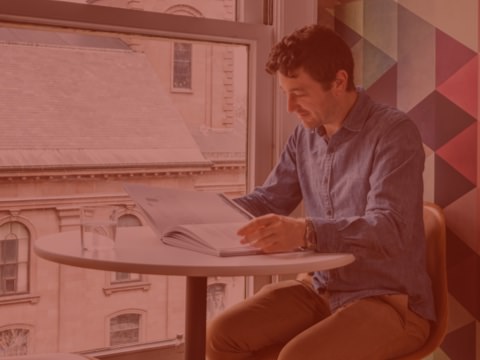 How Workplace Design Expresses Brand
See how workplaces redesigned to be laser-focused on expressing brand become powerful tools for building strong relationships with customers and employees.
My workplace presents a good corporate image.
44% increase
I'm proud to bring visitors to my workplace.
43% increase
The design of my workplace influences my organization's culture.
35% increase

*Aggregated results from our survey of Living Office research partners before and after their workplace design
The way your office looks and feels can send a message as powerful as a Times Square billboard. A workplace that broadcasts who you are through meaningful design elements in settings fine-tuned to your organization's character gives people an immediate sense of your priorities and purpose.
By creating a workplace that reflects who you are and what you do, you can build a stronger connection between your people and the purpose of their work.
A workplace that's welcoming and inspiring tells potential employees and customers that you take your relationships with them seriously. See what happened when two companies used our Living Office placemaking approach to build brand awareness.
Valley of the Sun United Way
This non-profit transformed their office into a place with vibrant settings where their team interacts with community members and donors.
My workplace presents a good corporate image.
45% increase
MASS Design
To help this non-profit design firm advocate for the value of design with their clients, we worked with their team to create a workplace that expresses their character.
Leesman Index for Workplace Effectiveness
52.7 Before Redesign
77 After Redesign
62.1 Global Benchmark
The Leesman Index for Workplace Effectiveness is an independent global benchmarking service that gathers and analyzes data on workplace effectiveness from thousands of organizations.


Explore More Findings from Our Workplace Research
How to Catalyze the Workplace for Growth
When research on your people and their work informs your office design, it becomes a powerful tool for organizational growth.
Give Ideas Room to Grow
If you're in the market for an innovation boom, start by removing unintentional barriers between people and ideas.
Be an Efficiency Expert
Efficiency isn't about more or less space, it's about using the space you have to create a seamless workflow for people.
Create a Center of Attraction
One of the biggest benefits you can offer people—and a major differentiator that you may be overlooking—is a connective and fulfilling workplace.