Nelson™ Bubble Lamps added to Herman Miller Collection
Make a statement in any space with George Nelson's iconic and timeless designs
Highlights
George Nelson's iconic Bubble Lamps are now available from Herman Miller throughout Europe, Middle East and Africa

The lamps are typically hung in dramatic clusters to bring impact and make a statement in any space, while casting a soft and consistent light.

The lamps are available in a range of styles and sizes including Ball, Pear, Saucer, Cigar and Propeller pendants
Herman Miller has assumed the exclusive rights to the portfolio of iconic and timeless Bubble Lamps designed by George Nelson, which are available throughout Europe, the Middle East and Africa.
An influential designer of mid-century modernism in America, who also worked closely with Herman Miller on a number of furniture designs, George Nelson came across a set of hanging lamps from Sweden and loved everything about their modern aesthetic. "The Swedish design was done in a silk covering that was very difficult to make; they had to cut gores and sew them onto a wire frame. But I wanted one badly," Nelson wrote in his book, On Design, published in 1979.

Nelson located the manufacturer of a white plastic spray that was used by the U.S. military after WW2 to "mothball" military warships and airplanes for future use. It was used as temporary protective packaging of engine, machinery, and other articles. Nelson acquired this resinous plastic solution from R.M. Hollingshead Corporation and utilised it in the making of the Nelson Bubble Lamps.
Nelson created the spherical frame with perforated rings that were inserted with steel wires, a construction that retained its shape under tension. It was a method that required minimum tools, and had no welding costs. It was then sprayed with the resinous lacquer to form a fibrous web, and a final coat of plastic was applied, creating a smooth, translucent skin.
Favoured by interior designers working on commercial, residential or hospitality projects, the lamps are typically hung in dramatic clusters to bring impact and make a statement in any space, while casting a soft and consistent light.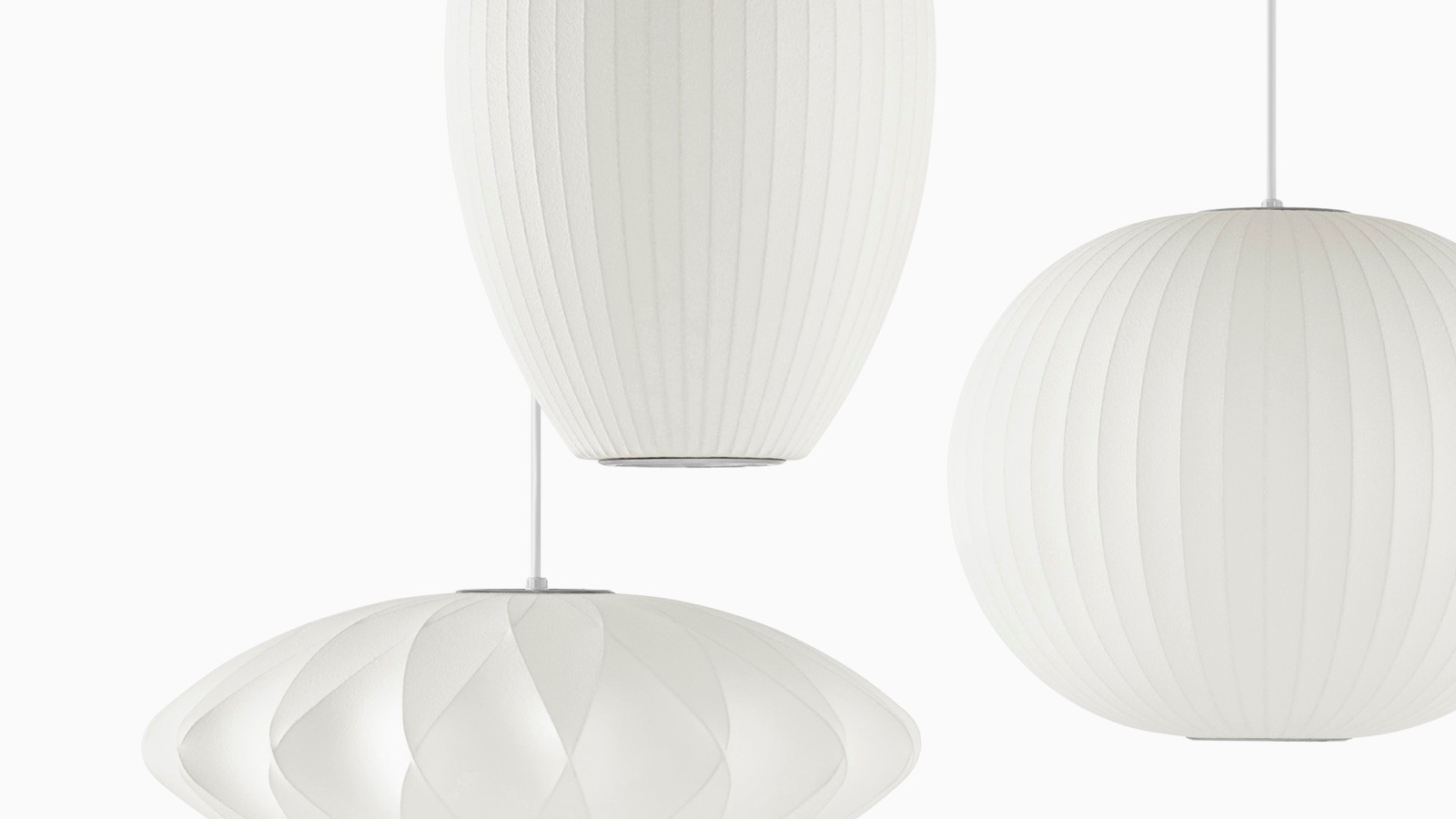 The Nelson Bubble Lamps have been added to the Herman Miller Collection, which was established by George Nelson in 1948, and showcases timeless pieces from the Herman Miller archive as well as new furniture from today's most talented designers. The lamps are available in a range of styles and sizes including Ball, Pear, Saucer, Cigar and Propeller pendants.
About Herman Miller
Herman Miller is a globally recognised provider of furnishings and related technologies and services. Headquartered in West Michigan, the global company has relied on innovative design for over 100 years to solve problems for people wherever they work, live, learn, and heal. Herman Miller's designs are part of museum collections worldwide, and the company is a past recipient of the Smithsonian Institution's Cooper Hewitt National Design Award. Known and respected for its leadership in corporate social responsibility, Herman Miller has been included in the Dow Jones Sustainability World Index for the past 12 years, and has earned the Human Rights Campaign Foundation's top rating in its Corporate Equality Index for the past nine years. In the 2016 financial year the company generated $2.26 billion in revenue and employed nearly 8,000 people worldwide. Herman Miller trades on the NASDAQ Global Select Market under the symbol MLHR.