Designed by Stefan Diez
Fuld Nesting Chair
Reimagining a seating mainstay
Our first nesting chair, Fuld has a crisp design that both reimagines and sets a new reference point for seating that 'nests' together when not in use, saving space. Designed by Stefan Diez, Fuld eschews the typical X shape for a sleek inverted Y with tubular arms. The back has a bit of flex, which helps to keep you comfortable when you shift positions. With Fuld, the modest nesting chair gets the respect it deserves.
Elevates the aesthetic
With its refreshing aesthetic, Fuld is a standout among nesting chairs and enables you to reconfigure space for different uses, such as breakout sessions and educational events, without sacrificing style. Designed for practicality, it features flip-up seats and wall-saving legs that prevent the back of the seat from scraping against walls. Fuld's unique lines and monochromatic or multicoloured look enliven any space, even when stored in the open, proving that functional can be feisty.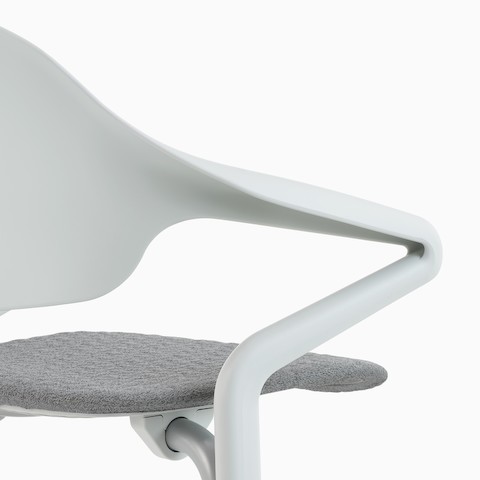 Considers sustainability
A long-standing commitment to the environment influenced Diez's design of Fuld. Its pioneering one-piece construction and tubular arms result in less waste in the production process. In addition, the 3D Knit textile, which is made from 50% post-consumer recycled content, is knitted to the chair's exact dimensions, so there's no fabric waste.
Factors in comfort
Fuld's contoured seat pocket and a back with a welcome bit of flex provide a surprising degree of comfort. An optional 3D Knit textile, available in a variety of colours, adds visual warmth.
Specs
Dimensions, materials, details and available options that make up the Fuld Nesting Chair.
"I have no problem spending time alone. It's when you are confronted with yourself that you become aware of the things that are hidden. Silence lets these things come up."