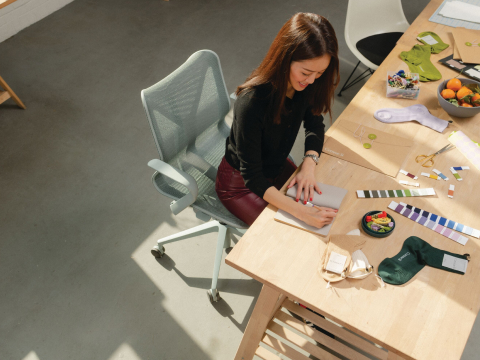 Do your best—with what we do best. Our groundbreaking designs have helped people find comfort and focus since 1905. Shop for yourself. Or for your business.
Named one of Time magazines's 100 Best Inventions because of its instant, breathable comfort.
"The moment I sat in the chair, I knew I had made the right decision."

Brooke G • June 15, 2020

Take care of yourself throughout the workday. Discover more tools for sitting, standing, and staying active.
Seating
No more slouching in a dining chair. Our ergonomic chairs are engineered for hours of focus.

Desks & Tables
From sit-to-stand to legacy design, our desks and tables elevate your focus and workspace.

Lighting & Storage
Add thoughtful touches to help you stay even more productive, organized, and inspired.

Featuring an angled personal desk light that gives power to the user through its integrated USB type A and type C ports.

A versatile way to eliminate clutter, either on its own or stacked with other Formwork components.

Partner with Herman Miller
Give your remote team a boost with a business discount through our Inside Access program.
Ask Us Anything
We've got your back. Check out our FAQs, or give us a call at 01225 794103.
* Please fill in the required fields:
Please fill in the required fields:
Thank You!
We've successfully received your information. You should hear from us soon.

Something went wrong.
Please refresh the page and resubmit your information.