All of the light, less of the energy
Flute was designed by Tom Newhouse to be flexible, versatile, compatible, economical. And with its LED technology, 24-year life span, and cost that's less than a cup of coffee to use it for a whole year, Flute leaves a minuscule carbon footprint on the earth. Weighing in at just two pounds, this task light also leaves a small footprint on your desk. And it's home-grown: made in the USA.
Efficiency and longevity
Flute saves you money in all kinds of ways. It uses the latest in LED technology to provide high-quality light output while consuming 30-50+% less energy than traditional task lights, generating 48 lumens per watt of energy consumed.
Flute's LED chips require no bulb replacement or service over the estimated 24-year life span with average use. So you also save big on small maintenance costs.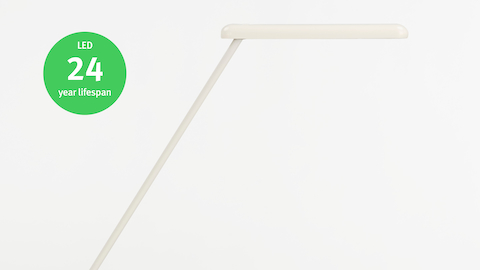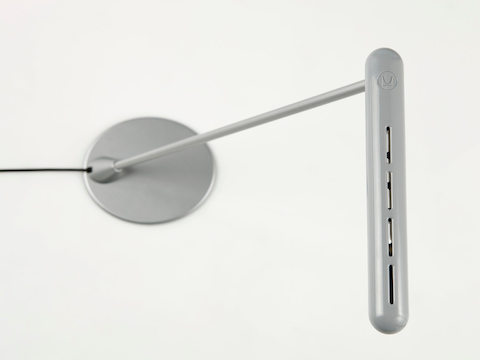 More light on any subject
Flute provides 226 lumens of light. Translation: That's a lot of light. Just what you need in a task light. Medium-warm light, which is friendly to your eyes.
The freestanding lamp has a head that swivels 230 degrees from left to right, so you can easily focus the light where you need it. A 360-degree rotating clamp mount option provides the maximum flexibility in light placement.
Light on its feet
User-friendly in all kinds of ways—including what it weighs: two pounds for the freestanding model, 1 1/2 pounds for the clamp-mount option. Touch to turn on or off. And with its integrated heat sink, Flute stays cool to the touch—so if you want to pick it up and move it, you won't get burned.
Three color choices: metallic silver, graphite, and white.