Shines as one of the best values in the LED market
Herman Miller's newest LED task light, Tone balances price and performance like no other in its category.
Tone adjusts and dims to put the perfect amount of light right where you want. It draws just over six watts and shuts off automatically after nine hours of use to save energy. It also capitalizes on the latest advances in LED technology to produce alluring illumination that makes everyone look their best.

Considering all you get, Tone shines as one of the best values in the LED market.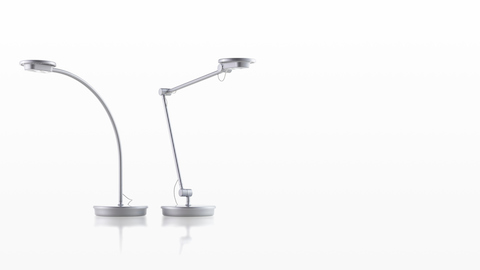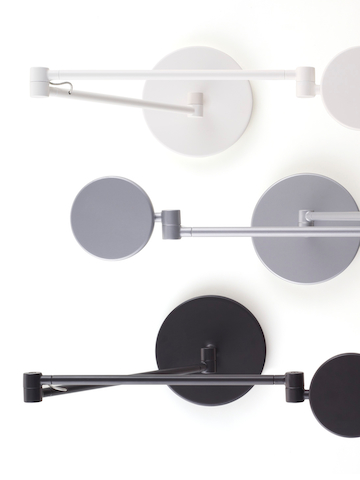 In, out, and all about
Tone moves every which way. The entire lamp swivels at the base, while articulating joints—at the base, head, and midsection—give you precise control over what is illuminated.
A single-arm version also is available. It remains fixed at an appropriate ergonomic height, but otherwise offers all the features of its articulating counterpart.
A glowing value
Easy adjustability, dimming, auto shutoff—Tone delivers big value in a small package. Since it draws just over six watts, about 10 percent of a typical incandescent bulb, the value also is reflected in minimal operating costs.
Tone LEDs will last more than 50,000 hours—at an average of eight hours per day, that's about 24 years. Even then, the LED circuit board can be replaced to give Tone new life. When it's finally ready to retire, Tone is about 93 percent recyclable (it's made from 38 percent recycled material to begin with).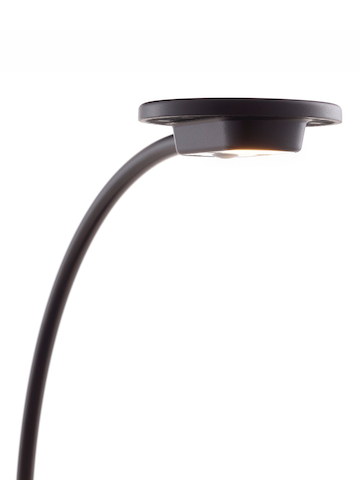 Small footprint
With workspaces getting smaller, bulky task lights can get in the way. When placed on a work surface, Tone has a mere six-inch-diameter base—a compact design that brightens your work without cluttering your desk.
Both the articulating and single-arm versions also can clamp to your work surface or mount on a rail tile.
Born and raised in Michigan
Tone is made in Herman Miller's home state of Michigan. That goes for all major components—even the circuit board. So not only does Tone need little energy to operate, it doesn't require much to transport parts during the manufacturing process either. At every step of its life, Tone treads gently on the environment.