Support for people who work in a constant state of motion
As work evolves, and we become more active, shifting from individual to collaborative work in an instant, we need tools designed to be as agile as our work style. To address this need, the designers of Studio 7.5 set out to create a high-performing chair that supports people who work in a constant state of motion.
Immediate comfort and personalized ergonomics
Mirra 2 moves with the person, at one with the body. When you sit, the seat and back adapt to you instantly. With dynamic surfaces that respond to your slightest movements and simple, intuitive adjustments to fine-tune the fit, Mirra 2 balances immediate comfort and personalized ergonomics in one sophisticated design.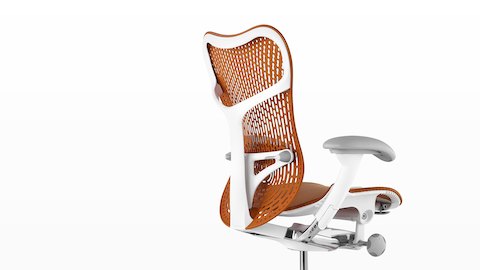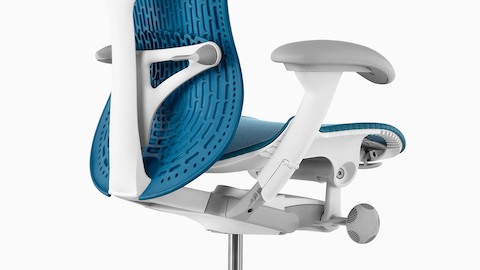 Support in motion
Support for seated movement starts with a flexible, yet supportive design that allows your body to move freely and naturally. Mirra 2's Loop Spine provides torsional flex, allowing you to stretch and reach laterally, while the Harmonic 2 tilt provides a smooth, balanced feel as you recline.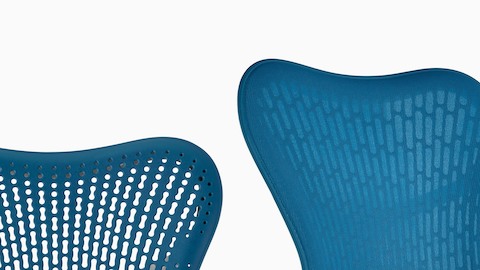 Butterfly back or triFlex
Two back options help Mirra 2 work for a variety of people and applications. The ultra-responsive Butterfly Back results from inventing a method for merging a fabric layer with polymer veins to create a dynamic hybrid structure that acts like a suspension membrane. The TriFlex back meets more rigorous cleaning protocols because there is no fabric layer.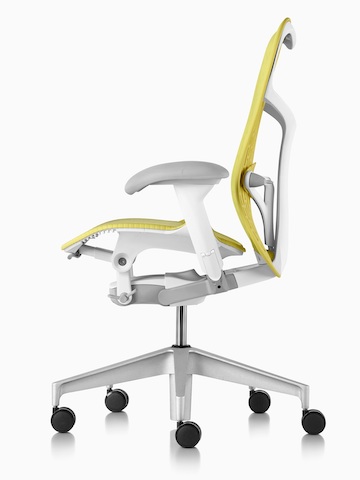 PostureFit
Both Mirra 2 back options offer passive PostureFit sacral support to keep your spine properly aligned as you sit. And both are ventilated to keep you cool, as well as supported, no matter how active you are.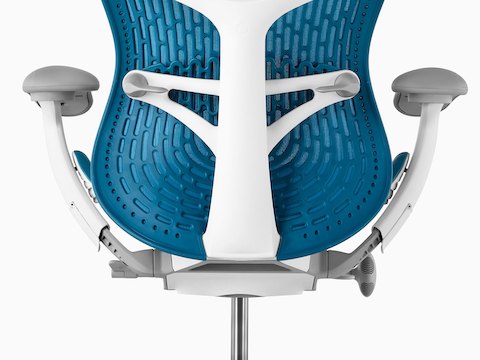 Form celebrates function
The lean design of Mirra 2 brings a sophisticated profile and visual lightness to any space. An emphasis on performance is visible. The individual components and their function are apparent and celebrated, and vary accordingly in material and appearance.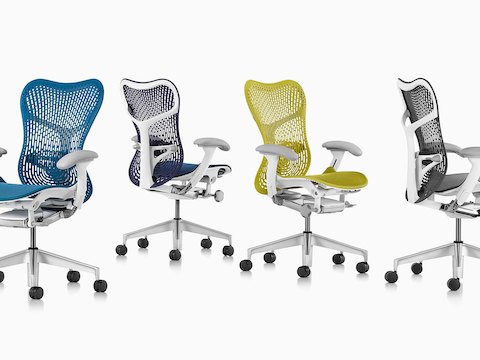 Versatile palette
As performance defines the look of Mirra 2's components, their coloration allows significant options for defining the overall aesthetic of your chair or stool. Added selections for textiles, back loop and spine colors, and base finishes offer flexibility and encourage personalization.
Chair Adjustments
Adjusting Mirra 2
How to tune and use your Mirra 2 Chair for maximum comfort and support
CTA
Chair Adjustments | 2:57
Adjusting Mirra 2
Tune and use your chair for maximum support