Designed by Charles and Ray Eames
Eames Molded Plywood Coffee Table
Simple, lightweight, imaginative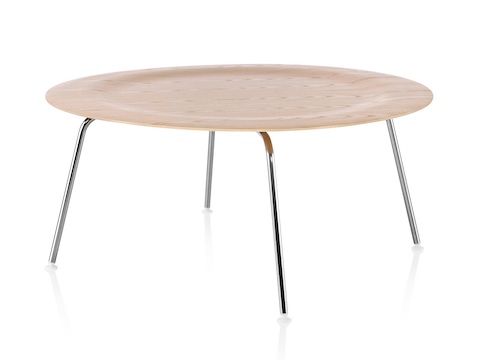 Eames Molded Plywood Coffee Table
Charles and Ray Eames applied the same breakthrough technology that resulted in their famous molded plywood chairs to create the simple, lightweight, imaginative Eames Molded Plywood Coffee Table Wood Base in 1946. The Eames Molded Plywood Coffee Table Metal Base features the same dimpled top supported by slim metal legs.
The surface of both versions is an eloquent example of the spirit of early Eames design. A round, slightly indented top creates a lean profile that forms a strikingly simple centerpiece in any residential or commercial space—whether surrounded by complementary molded plywood lounge chairs, or balancing out a sitting area with sofa seating.
Lightweight, compact, and versatile, the all-wood table comes in walnut, natural cherry, ebony, or white ash finish. The metal leg version features the same tabletop finish choices along with legs in black or trivalent chrome.
Design Story
Like many designs by Charles and Ray Eames, the Eames Molded Plywood Family is a result of a philosophy that views design as an ongoing journey of evolution, insight, and delight. For the designers, everything was a process and an exploration. When they married and began working together in the 1940s, part of their journey involved exploring seating solutions crafted from one piece of material—a curved, single-shell form in which the seat and back are one.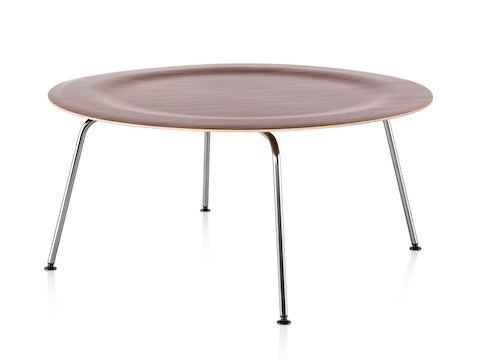 Along the way to realizing that form, they invented a breakthrough plywood-molding process. Sculpting a seat and back to fit the contours of the human body, while using relatively inexpensive materials and mass production, Charles and Ray created an inviting, innovative seat of unlikely comfort. Soon after, coffee tables and a folding screen joined the furniture family.