Designed by Charles and Ray Eames
Eames 2500 Series Executive Desk
An executive desk that's quintessentially Eames
The Eames 2500 Series Executive Desk epitomizes the iterative spirit of its designers. It starts with the strong, clean T-leg design from Charles and Ray Eames' 2500 Series, a range of multi-use tables that were ahead of their time when introduced in 1961. These are paired with an expansive, raised desktop, which was based on a limited-edition, custom Eames design. Available in a choice of premium veneers with a unique leather inlay option, the result is an executive desk you can design a room around—be it the corner office or your home office.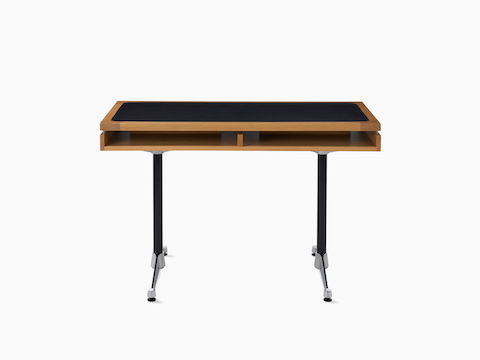 Uncommon beauty
Elegant details such as the premium veneer choices, optional leather inlay, and raised top give a nod to the fine woodcraft of the midcentury era.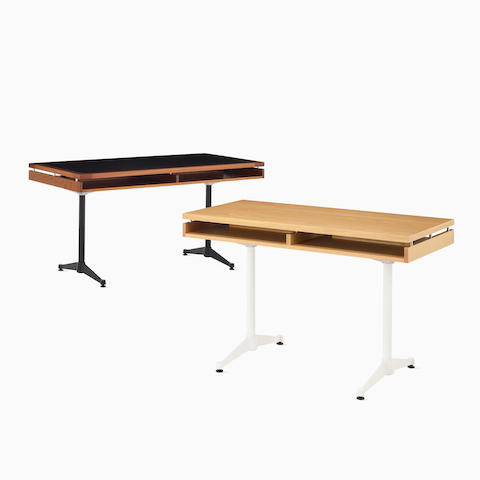 A legacy of reinvention
Charles and Ray Eames continually explored new materials and expressions for their timeless designs. It's in that spirit that the 2500 Series Executive Desk reimagines their universal T-leg with steel columns, aluminum feet, and an executive sensibility.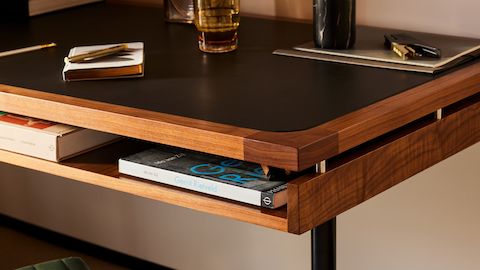 Functional simplicity
The desk's interesting silhouette highlights its simple storage element—a secondary surface below the desktop that provides flat storage for a phone, tablet, or papers while also managing cords and charging cables to help reduce clutter.
Specs
View the dimensions, materials, features, and available options for Eames 2500 Series Executive Desk.