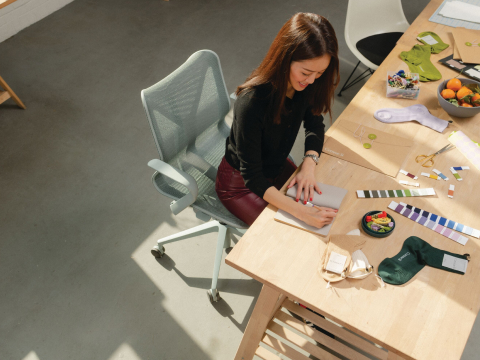 Do your best—with what we do best. Our groundbreaking designs have helped people find comfort and focus since 1905. Shop for yourself. Or for your business.
"The moment I sat in the chair, I knew I had made the right decision."

Brooke G • June 15, 2020

Take care of yourself throughout the workday. Discover more tools for sitting, standing, and staying active.
Seating
No more slouching in a dining chair. Our ergonomic chairs are engineered for hours of focus.

Desks & Tables
From sit-to-stand to legacy design, our desks and tables elevate your focus and workspace.

Lighting & Storage
Add thoughtful touches to help you stay even more productive, organized, and inspired.

Partner with Herman Miller
Give your remote team a boost with a business discount through our Inside Access program.
Ask Us Anything
We've got your back. Check out our FAQs, or give us a call at (888) 798-0202.
* Please fill in the required fields:
Please fill in the required fields:
Thank You!
We've successfully received your information. You should hear from us soon.

Something went wrong.
Please refresh the page and resubmit your information.