Designed by Charles and Ray Eames
Eames Sofa Compact
A sleek, slender, minimalist piece of classic mid-century furniture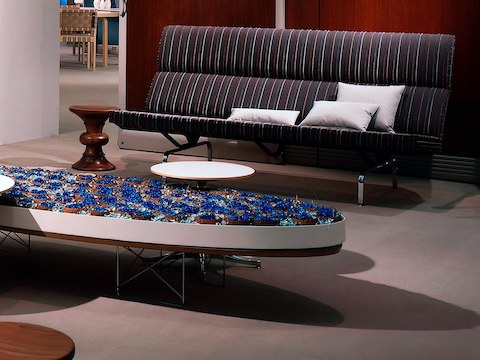 Eames Sofa Compact
Why "compact" for a sofa that's 1,830‑mm wide and seats three? The clean profile of the Eames Sofa Compact is perfectly scaled for spaces that are too small for a traditional sofa – in executive suites, lounges and homes. But you lose none of the comfort that you would expect from a full-size sofa. Style and seating are elegantly combined in a sleek, slender, minimalist piece of classic mid-century furniture.
Comfort in tight spaces
With all the comfort you expect from cushy, heavy sofas, the Eames sofa compact sits well where bulky traditional sofas can't. In your home's vestibule, study, craft or sewing room, or home office. In executive suites, lounges and reception areas. In small flat living rooms, where it provides plenty of seating without ruining the scale of the room.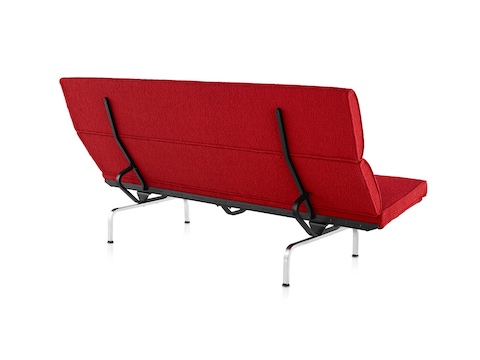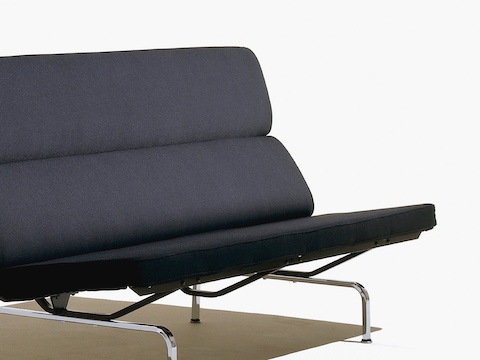 Strong and durable
The two foam pads that constitute the sofa's back feature a reinforcing cord welting detail. Urethane foam seat cushions are supported by fabric-reinforced rubber webbing on a steel and wire-spring armature. The steel frame is black enamel, and the tubular steel legs are chrome plated. Stainless steel glides have rubber bases.
Design story
The Eames Sofa Compact started out as a built-in sofa in the Pacific Palisades home that Charles and Ray Eames designed for themselves in the 1940s. They liked the sofa so much that they developed a free-standing version – first in wire and then the current model, which has been in continuous production since 1954.

The design, which looks nothing like a traditional sofa with heavy upholstery, is crisp and light in scale. And while it's perfect for smaller rooms and smaller spaces, where a traditional sofa would look bulky and out of place, it also fits beautifully into larger rooms in which an airy, modern look is desired.
Herman Miller x HAY
Classic Eames designs thoughtfully reimagined by Danish design house HAY.