Designed by George Nelson
Nelson Daybed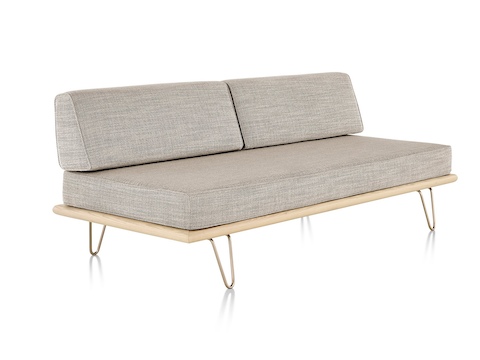 Nelson Daybed
Sleek, versatile and timeless, the Nelson Daybed fits effortlessly into a myriad of settings, including the bedroom, living room, office or nursery. With removable back or side bolsters, it easily transitions from a sofa to a bed for a momentary respite or a full night's rest.
Originally designed in 1950 by George Nelson, its re-issue retains original specifications and crafted details like the bevelled edges of the wood platform and rounded welt-cord piping of the cushions, a feature that distinguishes the original from imitations. Stainless-steel hairpin legs or the tapered wood legs give it the classic Nelson touch. The cushioning is enhanced with dual-density foam for more support and durability while maintaining its lightweight aesthetic. As homes and flats shrink in size, multi-purpose furniture like the Nelson Daybed add a practical and sophisticated presence to any room.
Design Story
One of the most influential designers of mid-century modernism in America, George Nelson joined Herman Miller in 1945 and served as director of design for over 25 years. During this time he curated what became known as the Herman Miller Collection, a comprehensive set of products designed for modern living.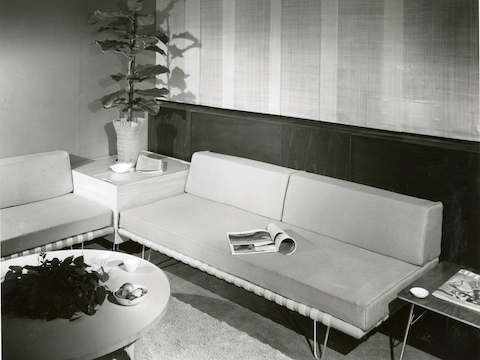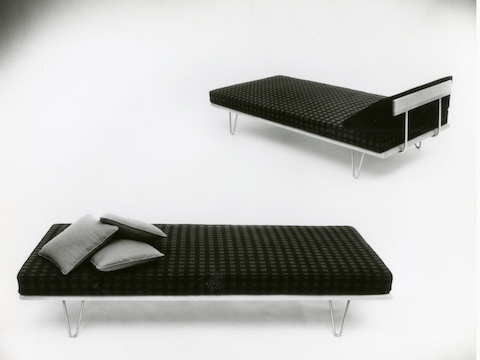 Evolving needs
Nelson designed an early version of the Daybed for his own use in 1941, then refined the original design and launched it in 1950. Nelson advocated that design should evolve as human behaviour changed. In his ideal interior space, furniture was designed to be in relation to the whole. With flexibility inherent in its form and use, the Nelson Daybed exemplifies this philosophy. As an archival advertisement points out, the Nelson Daybed is "ideal for the bedroom that has to double as a sitting room".