Designed by Michael Anastassiades
Doubleframe Table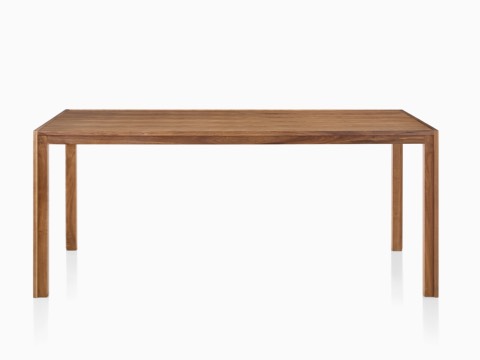 Doubling down on a clean-lined classic
Doubleframe Table
Striking in its simplicity, the Doubleframe Table is pared down to a rectilinear form of pleasing proportions and maximum versatility. Corner-placed legs branch into a double-frame that holds an inset tabletop, which can be specified to match or contrast. The intricacy of its construction is contained within an overall clean, minimalist aesthetic—a quality shared by the 1930s Parsons Table that inspired it.
The legs and frame are offered in a choice of natural hardwoods, with tabletop surfaces available in wood or stone. Used as a dining table or conference table, Doubleframe provides a strong, quiet anchor for a range of settings.
Design Story
With his Doubleframe Table, designer Michael Anastassiades continues to elevate basic furnishings to objets d'art by stressing the quality of their construction and the integrity of their materials.
The idea for the Doubleframe Table began while Anastassiades was exploring how a table is constructed, particularly how the edge of a top can be hidden through a simple gesture. By focusing on the transition points between parts of the table—the legs to the frame, and the frame to the surface—he created a seamless design whose beauty can be appreciated from every angle.
"The simple woodworking details speak to my approach to honest design through a minimalist philosophy."