Designed by George Nelson
Nelson Pedestal Table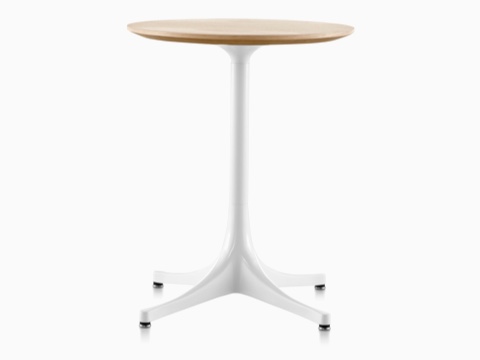 Nelson Pedestal Table
End table, café table, informal meeting table or cocktail table on the patio.
This versatile classic, designed by George Nelson in 1954, is available in three sizes and with laminate or natural stone tops, which means they can be used in a variety of ways. The tables will hold a lamp, a laptop or tablet, a book and a cup of coffee, or a vase of flowers in style. The clean, graceful lines of the pedestal and legs are typical of a Nelson design.
Sized to fit
With so many choices in top and pedestal sizes, these can be so much more than end tables. Depending on the size and top material you choose, a table can work in the office or at home (inside or outside) as a table in an informal meeting area, break room or lounge, as a bedside table, coffee table or occasional table for your deck or patio.
Styling choices
Choose from tops in white or black laminate with maple veneer edging or in natural stone. The sculpted, tapered pedestal base is available in polished aluminium or powder-coated in black or white.