Designed by George Nelson
Nelson Pedestal Table Outdoor
A true classic, updated to withstand the elements
Nelson Pedestal Table Outdoor
Designed by George Nelson in 1954, the Nelson Pedestal Table Outdoor has been updated with hardy materials that will stand up to the elements. It offers an auxiliary surface to complement any grouping of outdoor furniture. Two heights and two diameters of North American stone tops enable the selection of the right table, or tables, to suit any open-air arrangement.
A cut above

The first step in creating the Nelson Pedestal Table Outdoor was to choose a selection of stone finishes that would be durable and provide a natural complement to the existing design, while also contributing a unique character of their own.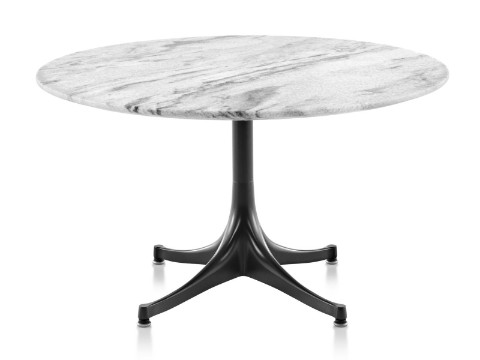 We sourced stones from North American quarries and named them after their home state: Georgia Grey Marble, a cloudy grey stone from the same location used in the 2004 renovation of New York's Museum of Modern Art; Wisconsin Black Marble, a unique dark stone speckled with lustrous green and grey veins; and Quebec Graphite Granite, a subtly patterned granite composed of deep hues used to rich effect in Chicago's John Hancock Center.
Once extracted, two 1-cm-thick slabs of stone are cut to order with a knife edge derived from Nelson's original design and given an eggshell-like honed finish. Tops and bases are connected with a bolt that runs the length of the column to ensure strength and durability through years of use.
Made to measure
At 546-mm high, the 432-mm diameter table is a near perfect side table, whether that's beside a pool or a patio chair. At a height of 406-mm, our 724-mm diameter table makes for a sturdy, low coffee table or complements a reclined chaise longue. With a 546-mm high pedestal, the wider diameter table is ideal for serving and easily holds its own at the centre of a furniture arrangement. Tables of different heights can be nested easily. Select your preferred height, width, powder-coat colour and stone, or mix and match from dozens of possible variations.
"Total design is nothing more or less than a process of relating everything to everything."