Applications
Patient Care
Exam rooms must be designed to support both a consult and a physical exam. They must also be optimized to adapt for continuous improvements to enhance the delivery of patient care.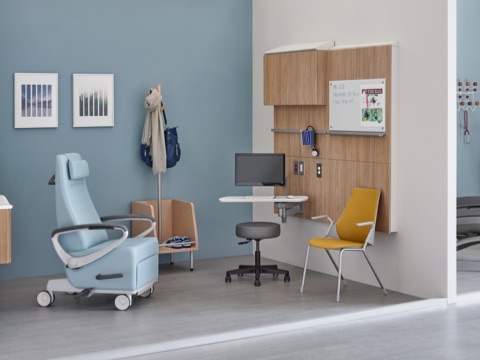 Adaptable and functional spaces
The constant interplay of activities throughout the nurses' station will be best served by flexible and responsive furnishings. Nurses' stations, along with a complement of adaptable clinical and administrative products, let you design for image, process, variable staff size, and function. And for the dynamic nature that defines the nerve center of the patient care area.
Patient and family friendliness
Consider the needs, comfort, and convenience of patients and families. Welcome and sitting areas outside of patient rooms keep patients and families connected while providing places of respite and work and spaces for conversation.

Comfort in recovery
Color, lighting, materials, and textures can soften the clinical and institutional feel often associated with patient units. Comfortable surroundings add a level of familiarity to the patient's experience.
Appropriate casework
Our casework is made for those rare places in healthcare—like exam rooms—where things more or less stay the same. Casework comes in a variety of sizes, configurations, and storage options. Or create a hybrid exam room, mixing casework and modular, adjustable wall-attached upper storage units and work surfaces—in materials and sizes that work together.
More time with patients
Design patient-focused units that give caregivers more time to spend with patients and less time handling materials. Our solutions include bedside charting, patient room supply storage, mobile carts that transport supplies for specialized procedures, and modular and mobile products for satellite pharmacies and labs.