Designed by BroomeJenkins
Paragraph Storage
Make storage part of the story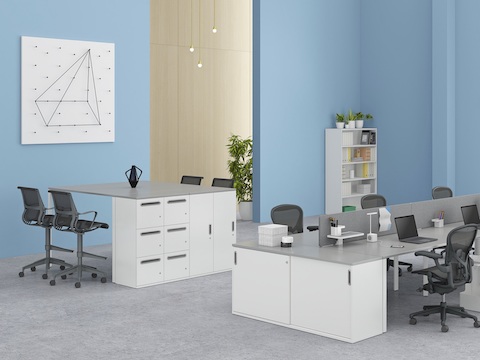 Paragraph Storage
At Herman Miller, we have been considering the connection between storage and the way people work for over 80 years. The thinking and designs of Gilbert Rohde, George Nelson, and Robert Propst are the foundation for our human-centered approach to storage design.
Paragraph is a storage system designed to be both relevant and productive within the modern workplace. It goes beyond the traditional function of housing the output of work, such as files and folders; it is flexible, architectural, and personal.
A place for everything
As individuals become increasingly mobile, and digital or cloud-based storage has become the norm, the use of physical storage within the workplace has evolved. People need to store personal items, shoes, cycle helmets, gym kits, and snacks alongside their papers and files. Paragraph embraces this change by offering a storage solution which caters to both these needs, using traditional cupboards and drawers alongside open shelves and lockers.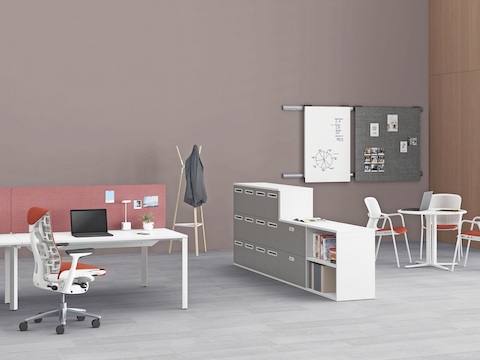 Diverse landscape
Paragraph was designed to be applied in a variety of ways from personal storage or team filing through to space division or archive, reflecting the varied landscapes in the office today. The choice of heights, widths, and finishes will readily complement existing furniture.

Delve into detail
Paragraph brings a new level of precision to MFC storage, which is manufactured and assembled in our own factory. Through rigorous design and engineering processes we ensure that Paragraph delivers the quality you expect. And like our other products, it's the details and choices that matter - from the range of closure types (hinged, tambour, or sliding) to handles (surface or flush-mounted).

"We believe that collaboration between client and designer with a clear objective is essential, but ultimately it is about identifying what the user will value most."