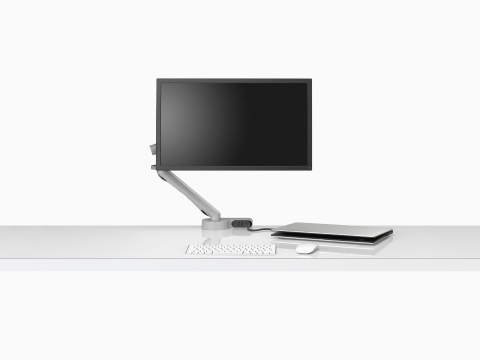 Tames desktop cable clutter and provides pass-through access to power and data below the desk
Designed for easy attachment to the work surface or to the base of a Flo, Ollin, Lima or Wishbone monitor arm, the Ondo Connectivity Module helps create a clean, minimalist desktop aesthetic by corralling cords and cables and routing them to an under-desk docking station (not included). Ondo draws on power from the docking station to provide a convenient way to connect and charge your devices at the desktop.

Tames Cable Clutter
Ondo's compact design with integrated cable management system is the antidote to desk clutter. When you use Ondo in conjunction with the Loop Micro Mount, it keeps cables above and below the desk tidy in a minimal amount of space. Nylon braided cables (included) are tangle-resistant and durable.
Provides Pass-Through Access to Power and Data
Ondo works in concert with Flo, Ollin, Lima and Wishbone monitor arms, routing the power and data from your under-desk docking station to two USB-A and two USB-C ports on the desktop for convenient access. Alternatively, Ondo can also be directly mounted to the work surface, providing all the benefits of power and connectivity without the need for a monitor arm.

Tool-Free Installation

Available in silver, white or black, Ondo installs without any tools. For the arm mounted version, simply put the monitor arm through the hole in the Ondo clamp cover, secure it and plug in your cables to be up and running. For the work surface version, use the under-desk clamp to quickly attach it.