Supporting monitors
When we design things, we always look to the human body for inspiration. Bend your arm at the elbow, stretch it out, rotate your hand at the wrist. You have just experienced the inspiration for our monitor arms.
The adjustability of these arms is an important component in giving users ergonomic support. When we recently asked companies about the types of monitors they use, 84% said flat screens. And 58% noted that they use desktop computers, with separate display, CPU and keyboard.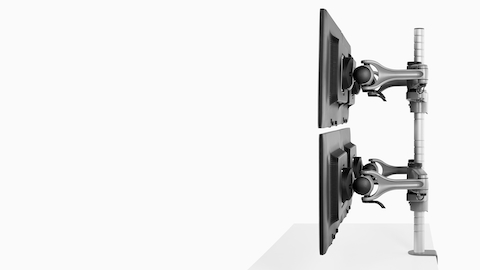 Designers Peter Bosson and Brenda Saunders anticipated this trend. In the mid 1980s, they invented the first monitor arm. They led a joint research programme into workstation ergonomics involving their company, UK-based Colebrook Bosson Saunders, and Olivetti. The effort resulted from the strong connections they had built with Ettore Sottsas, design consultant for Olivetti. By 1999, they had invented the first flat-screen monitor arm.

Acquiring Colebrook Bosson Saunders in 2010 has added new expertise to our ergonomics solutions. The company is an excellent fit given its global standing as a pioneer in ergonomic solutions.
Our combined strength, especially in supporting monitors, is directed at a growing trend for many companies. Recently, we asked business leaders which elements will drive the design of their work environments in the next three to five years. A full 43% said the need to accommodate multiple monitors.
The increased use of monitors makes flexibility and adjustability two key factors for support. Letting people easily change screen orientation from portrait to landscape gives them freedom to use preferred postures. Providing adjustability allows you to fine-tune the position of single or multiple screens to avoid glare.