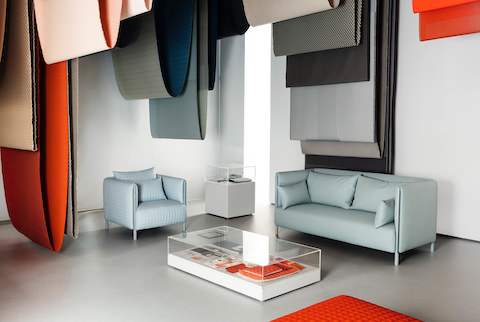 This year, at Salone del Mobile in Milan, Herman Miller and Maharam present the exhibit "Chromatography: The Colour World of Scholten & Baijings" to launch the new ColourForm Sofa Group and shine a light on our partnership with the pair of Dutch designers. Partners in life and work, Stefan Scholten and Carole Baijings have spent decades perfecting a droll brand of minimalism, where pattern and texture, soft colours, and subtle geometry coalesce into surprising furniture, fabrics, and objects. In addition to ColourForm, the pair will also unveil a trio of new fabrics in multiple colourways. WHY recently sat down with the couple to get their views on comfort, creativity, and why it all starts with colour.
Tell us about "Chromatography", the exhibit of your work in the Herman Miller showroom running during Salone del Mobile.
Carole Baijings: The exhibit is a combination of our own handwriting and Herman Miller's DNA.
All the textiles we've done for Maharam are hanging from the ceiling, and beneath them are the elements of our new ColourForm Sofa Group with various displays devoted to our design process, including a film we made with Herman Miller. We think it's important to show people the complexity behind the simplicity. We work like artists, almost, making our own colours and textiles. Colour is always the starting point.
It's interesting that all the textiles we use in the exhibit were designed separately for Maharam in the past, but they really come together with ColourForm. They share certain themes: grids, transparency, layering.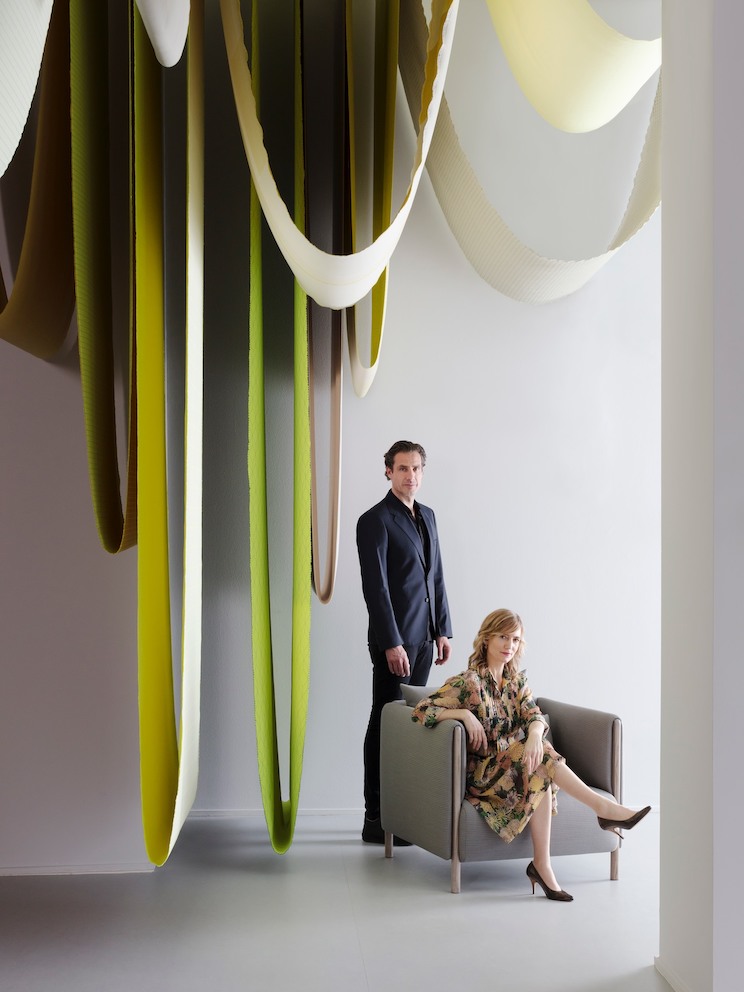 You've done quite a few textiles for Maharam, but ColourForm is your first furniture line for Herman Miller.
Stefan Scholten: Increasingly, our work and home environments are merging. These days, a sofa like ColourForm can be a universal design—you could find it in the home, or in an office, or in a hotel. Actually, I think we brought our European notions of comfort to bear on this project! There's a huge difference in comfort in the United States, I find. There, the sofas seem hard to me, at least that's my experience from hotels. In the U.S., I feel there's a wider gap between the home and the contract markets, a gap that has been closing in Europe for some time now.
How did you develop the ColourForm Sofa Group?
CB: We wanted to do a wood-framed sofa from the start—we love working with wood—and we wanted the upholstery to have a draped look, as though blankets have been folded over the frame.
Once we got off the drawing board, we went through about six model stages. We also made mock-ups to show Herman Miller how the textile panels should look on the frame. That was before we even got to the prototype stage—prototypes are expensive, so we wanted the design to be as worked out as possible before then.
Simplicity is always the key thing with any of our products. We emphasise colour, so we always produce designs that are quite minimal, which allows the colours and details to come into focus. With simple designs like ours, the colours and the details have to be perfect. So for the sofa, we created a new fabric, Tracery, for Maharam. Tracery combines a single-colour look with the texture and interest of pattern.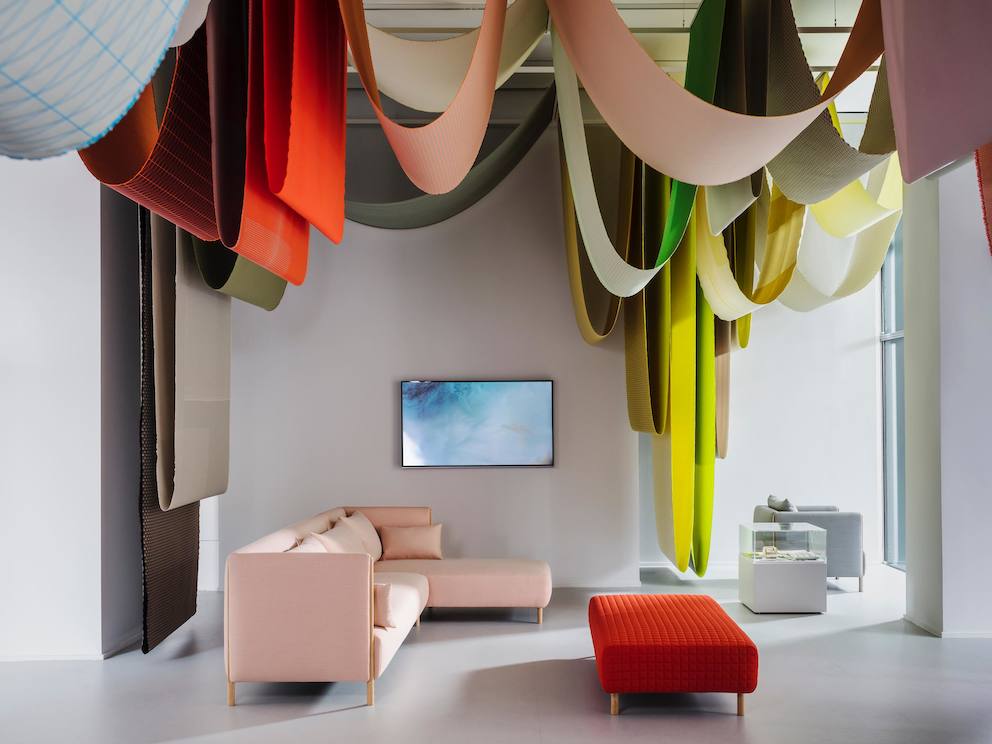 Speaking of Tracery, you're also introducing a trio of fabrics for Maharam at Salone.
SS: That's right. For Tracery, we started off by hand-sewing grids onto cardboard using contrasting coloured threads. We then refined the idea by sewing the grids onto fabric before taking it to the Textile Museum in Tilburg here in the Netherlands to test it out. We experiment there quite often and you can play with scale, see what works and what doesn't. The result was a fabric prototype, which we then took to Maharam.
Obviously, it had to be adapted for production and for its use in furniture: our original idea had raised threads that could have snagged when used in seating. Alongside Tracery, we designed the fabric Pare, a soft matte textile in 17 colours, and we also developed a quilted version as an additional option for the ColourForm series, which we think gives it a younger, funkier feel.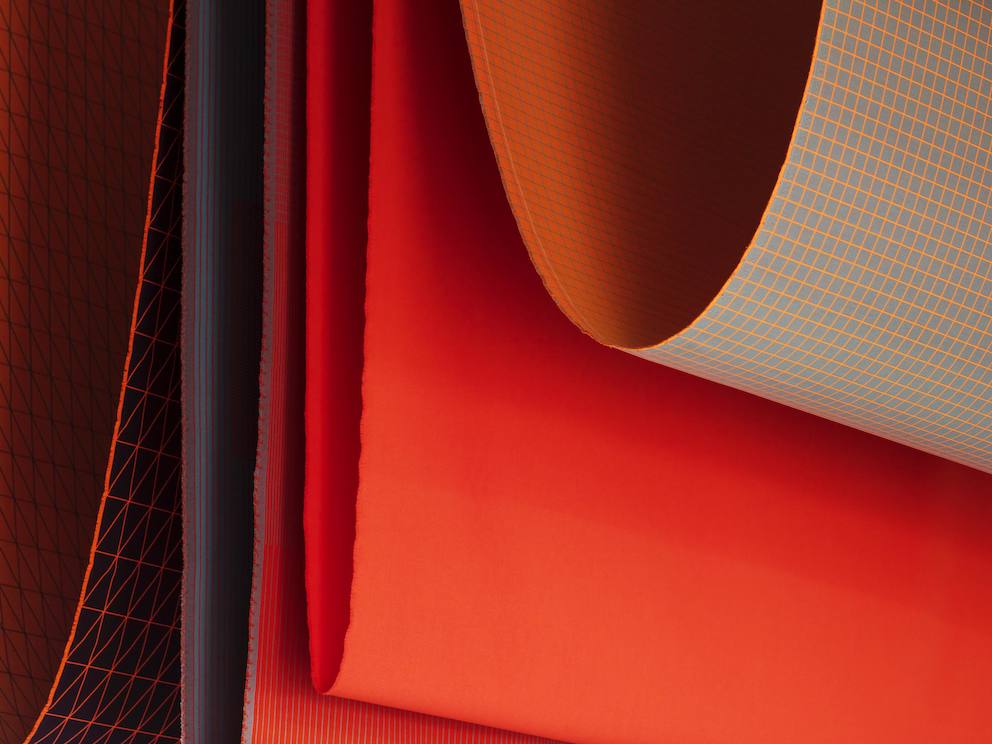 You said that colour is the starting point of your work. Can you describe what that means?
CB: We always start by trying out lots of colours with paint on canvas and that matte, chalky look is something we always try to keep. For this project, we began with 44 colours. Too many, but we knew they would be edited down during the design process. So, we've ended up with 17 Pare colours, 5 different colourways for the quilted Pare fabric, and 11 options for Tracery. We also added some colour options for the sofa's wooden frame—we felt these needed to be matte and still show the grain in the wood.
SS: Naturally, choosing colour for a sofa is different than for a plate. You live with a sofa for a long time, so the colour needs to have longevity, to be sophisticated and a bit subtle. But we still think it's nice to make a statement, so we have some standout colours in the range, too. We also know that interior designers need to have a lot of choice, so there's also what we call our ''soft black'' option for those who don't want colour.
ColourForm sounds pretty flexible with various textiles, formations, even coloured wood.
SS: Yes, completely. There are different seating components, and you can choose any fabric, colour, and wood combination you like. Consumers these days are very used to personalising products, so of course we wanted the whole system to be versatile. That said, you can also opt for our own preferences, the ''designers' choice'' range. People should have the chance to choose, but we also think it's important to show how we envisage ColourForm.
How did your collaboration with Herman Miller begin?
SS: We started working for Maharam a few years ago, designing fabrics that were then used to give a fresh accent to some of Herman Miller's classic pieces. So, then the question naturally arose, why not do our own furniture for Herman Miller? For the past two years, we've been working on this series.
Is there more to come?
CB: We hope so—we generally enjoy long relationships with our clients and see them as mutual learning processes. It's a great honour for us to work with Herman Miller. We appreciate the creative freedom that they give their designers. We like to think we've already learned from each other. For example, we persuaded them to develop new wood colours for ColourForm's frame, something they wouldn't normally do. Meanwhile, we've absorbed some of their knowledge of different markets and consumer behaviour. We know there's lots more we can learn—especially in the area of office expertise. Now that's an area where we'd love to present our vision.