Herman Miller's one-stop hub of manufacturing operations in Dongguan, China
Herman Miller Dongguan
Located in the Greater Bay Area in southern China, our state-of-the-art Dongguan facilities demonstrate our commitment to the things we believe in. Here at our 347,286-square-foot Pearl River Campus, we have an in-house R&D lab where we research the ideas, the know-how, and the tech that will drive the future of how we live and work.
And then there's our powerful hardware. At our Dongguan factory, we have metal and fabric laser cutting machines, welding robots, ceramic process powder coating lines, traceless DC welding machines, CNC folding machines, and automatic coil cutting machines – all of which facilitate exquisite production and exceed the latest industry standards for health, safety, and sustainability. Our manufacturing process is fully aligned with ISO 9000 quality certification.
The outcome? Our Pearl River Campus is a one-stop shop for quality products, market-relevant designs, faster lead-times, and our industry-leading warranties.
Herman Miller Performance System
The office furniture industry has traditionally struggled with inefficiency and waste, largely because the majority of its products are uniquely built for each customer. In the 1990s, Herman Miller experienced an economic boom—great for us, but potentially overwhelming to our manufacturing process which was already at capacity.
That's where a radical idea from an automotive parts supplier nearby came in by introducing us to the Toyota Production System and kicking off what we call the Herman Miller Performance System (HMPS). It's a lean manufacturing system we've employed across the company to improve every aspect of what we do; from shaving time off the Aeron assembly process to thinking through creative solutions for customers as their workspace needs change. As a result, our Dongguan facility is able to work efficiently and effectively, producing as many as 1,000 chairs and 1,500 legs every single day.
Sustainability for A Better World
In 1953, our founder, D.J. De Pree, challenged us to be good stewards of the environment by being a good corporate neighbor. We've taken that task to heart, letting it not only guide the way we manufacture products, but also create stronger communities, a healthier and more inclusive workplace, and a greener planet. You can see that in our sustainability strategies that keep us on the path of continuous improvement and through company-wide initiatives.
We also cut down on workflow waste in our Dongguan factory where we send everything from wood and sawdust particles to leather and fabric to recycling agents who repurpose our materials into new elements. And, demonstrating our commitment to a sustainable environment for our staff, our community, and the planet are our environmental management systems – all of which are ISO14000 and OHSAS 18000-certified.
Building on A Legacy
Herman Miller dates back well over a century, to 1905, when it was founded in Zeeland, Michigan, U.S. as Star Furniture Company. From its humble roots as a residential furniture provider, it wasn't long before the company became a defining force in the world of modern furniture for home, office, and beyond.
The company championed the likes of Charles and Ray Eames, Alexander Girard, and George Nelson—designers who all had a hand in shaping what modern design looks like today. Many of their designs are still in production, lovingly produced at our Dongguan facility. Likewise, recent hits and Herman Miller icons such as Aeron, Cosm, Atlas, Ratio, and Sayl are carefully manufactured at our Pearl River Campus, which is the perfect jumping-off point for more than 67 of the world's fastest-growing markets, from China, India, Singapore, and Australia to Latin America and the Middle East.
In tribute to our heritage, the four main buildings at our Dongguan facility are named after four designers who have played their part in making Herman Miller the world-leading furniture brand it is today: Eames, Nelson, Stumpf, and Girard.
Celebrating 114 years of Design Innovation
As well as quality and lasting design, one of Herman Miller's hallmarks is its creativity. This is embodied by the mural that runs through DJ Square at the heart of our Dongguan factory.
Designed by Mamata Volvoikar, a graphic designer with Herman Miller, this vast mural stands as a way for us to share a piece of our history with visitors and employees. Look closely and you will spot the Eames Molded Plywood Chair by Charles and Ray Eames; the Nelson Saucer Bubble Pendant by George Nelson; the Setu Chair by Studio 7.5; Herman Miller's Action Office; the Atlas Sit-to-Stand Desk and much more – including the faces of some of the designers with whom we've worked and continue to work.
Herman Miller Group
Herman Miller Group is an integrated placemaking hub fueled by our knowledge of people and fulfilled by our family of vibrant brands.
Each brand in our family brings a clear point of view, a legacy of design excellence, and deep manufacturing expertise. Together, they offer expressive and diverse products for environments where people live, learn, work, and heal. They're united by one mission: to deliver inspiring design to help people do great things.
Visit our Dongguan factory to explore our family of brands, which includes Herman Miller, Colebrook Bosson Saunders, Design Within Reach, Geiger, Maharam, Maars Living Walls, naughtone, and Nemschoff.
Explore the Way We Work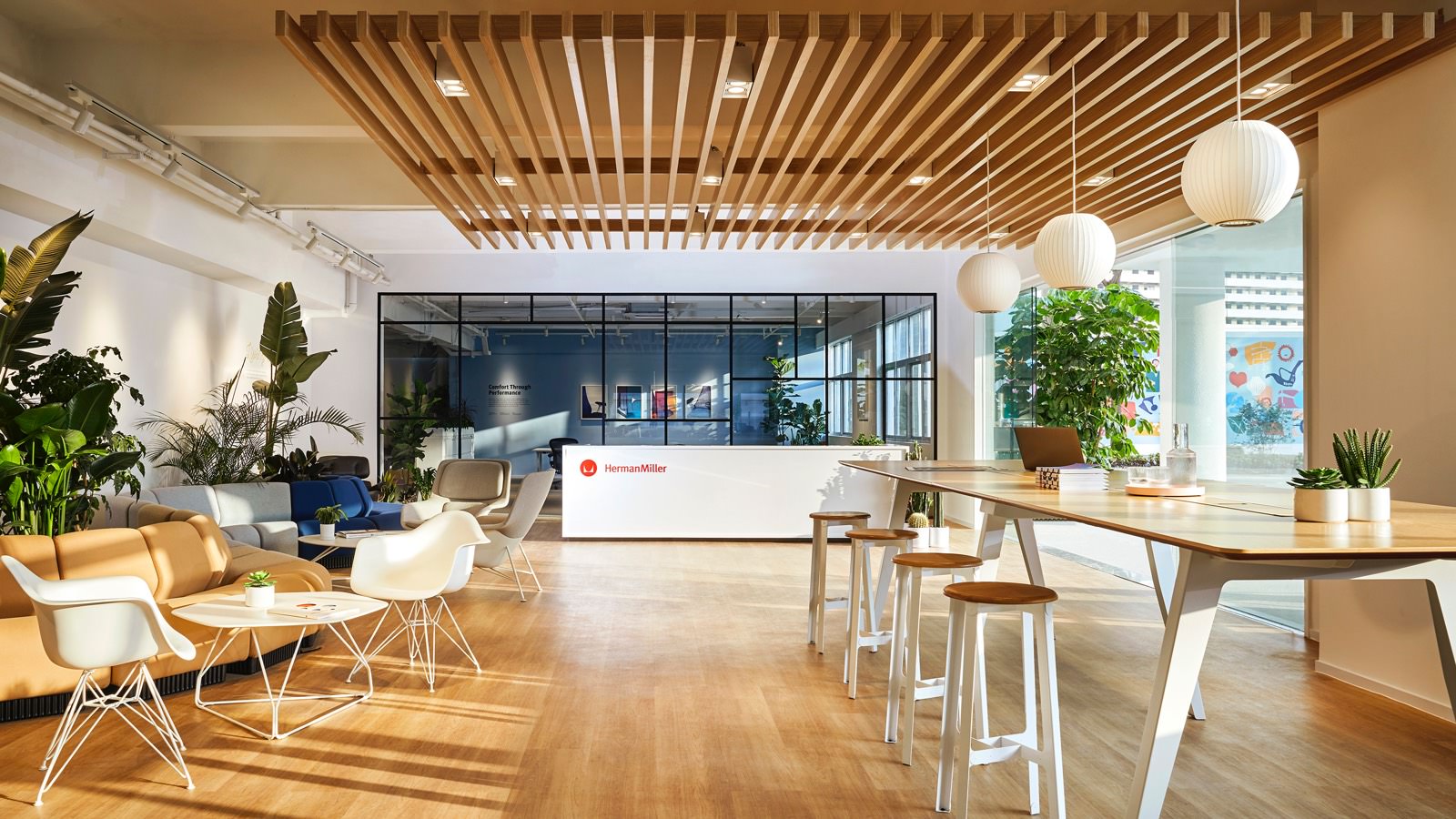 At Herman Miller, we practice what we preach, using our Living Office system to create high performance workplaces that help the people working there have a better experience, help organizations achieve their strategic goals, and bring humanity back into the office.
Our Pearl River Campus acts as a live case study, where open concept and meeting spaces, workshops, individual focus areas, and more come together to inspire casual collaborations, formal meetings, quiet time, and everything in between. We welcome you to come see how it's done in our neck of the woods.
For more information on Herman Miller Dongguan, contact Georgina_zhou@hermanmiller.com
About Herman Miller
Herman Miller is a globally recognized provider of furnishings and related technologies and services. Since its inception in 1905, the company has relied on innovative design to help people do great things. The global design leader has evolved into the Herman Miller Group, a family of brands that collectively offers a variety of products for environments where people live, learn, work and heal. The family of brands includes Colebrook Bosson Saunders, Design Within Reach, Geiger, HAY, Maars Living Walls, Maharam, naughtone, Nemschoff and Herman Miller.