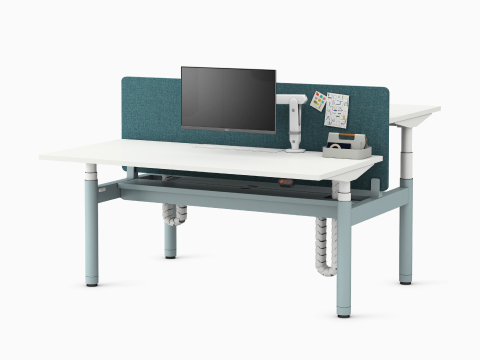 Distributed work is the new normal. Our solution? Ratio
As work becomes more flexible, the role of the office is shifting. To stay relevant, the successful workplace of the future needs to be dynamic, consisting of a network of spaces that instantly adapts to changing visitor numbers and organisational needs.
You asked, we listened
We study the latest ergonomic science to better understand how you move as you work. We test prototype after prototype. Plus we ask you how you use our products, and how we could refine them.
Power of choice
With the next-gen Ratio, you get to choose. Ratio is available with round legs, giving the table a lightweight look ideal for the modern office; or rectangular legs for structured, architectural appeal. The choice is yours.
Work your way
Supporting the workplace of the future is furniture that puts the power back in the hands of its users. That's why you get to choose how you move and when. Ratio's intuitive one-touch electric controls let you decide, and they shift the desk between positions in an instant.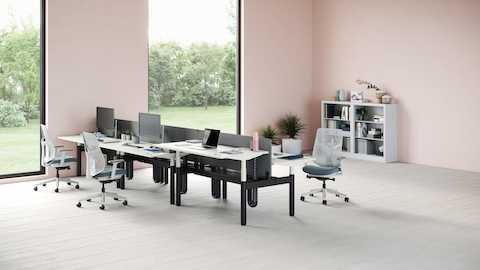 Well-being at work
Studies show that optimal health benefits happen when you move regularly between sitting and standing throughout the day. When you move more and better, you will feel better. And when you feel better, you work better – leading to better business outcomes for you and your organisation.
Products
Meet the Next-Generation Ratio
Meet the next generation of Ratio, a height-adjustable workstation primed for change.
The new Ratio is the latest in a long line of Herman Miller products that support alternative working postures. The sit-to-stand story began in the 1960s – preceding the advent of ergonomics in office furniture by quite a margin.
Expand Your View
Subscribe to receive information about Ratio, plus get workplace insights.
* Please fill in the required fields:
Please fill in the required fields:
Thank You!
We've successfully received your information. You should hear from us soon.

Something went wrong.
Please refresh the page and resubmit your information.