A thoroughly comprehensive, cohesive suite
People have always gathered to solve complex problems and generate big ideas. Yet today the stakes are higher, as more organizations rely on innovative thinking for success. Exclave addresses this need by equipping people to be more effective. It's a thoughtfully cohesive suite of products—from boards that stack, to carts that move them, to tables and rail-hung tools that get everyone involved. Together, these products let people and teams collaborate to develop and share their work more fluidly and spontaneously across the office landscape.
Enhances engagement
Exclave is a suite of products that complements the work of people collaborating. People can actively adjust Exclave's highly flexible products to their area and their needs. Everyone in a high-performing team can keep their ideas moving and evolving. Exclave becomes a spatial ecosystem where people and tools work together across the office landscape for sharing information, socializing ideas, and achieving results that drive profitability.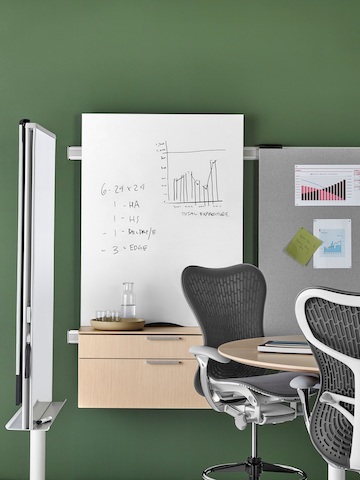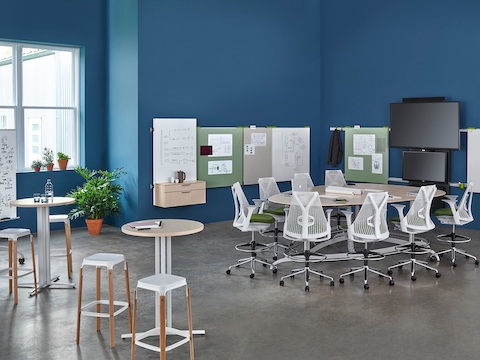 Fosters togetherness
Exclave addresses the physical, psychological, and social needs of high-performing teams. It simplifies interactions so all team members feel welcome in sharing their perspectives. Table shapes ensure clear lines of sight to analog and digital displays so everyone—onsite and remote—can see and interact with information and with each other. The thoughtful design and placement of media tiles support the sharing of digital content and ensure that team members participating by videoconference feel they have a seat at the table.
Mobilizes ideas
With Exclave, creative thinking that begins in one space can be refined or expanded in another. Whiteboards, tackboards, and lightweight eco boards travel with teams and individuals throughout the day to help preserve and disseminate good ideas. Mobile carts support the movement of boards, and provide freestanding display and space delineation in open areas. Rails installed in a variety of locations offer flexible, adaptable support for the full suite of Exclave products.