Ambit Vertical Cable Management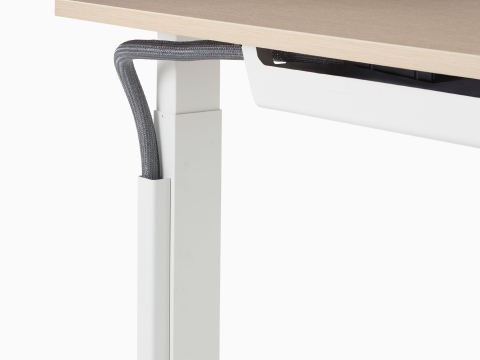 Organized and tangle-free
Secure your cords and keep your sanity. Ambit Vertical Cable Management keeps power and data cords concealed, tidy, and off the floor so you can continue to work safely and efficiently. Part of Ambit Workspace Solutions.
Rein it in
Avoid loose-hanging cables with Ambit's power cord organizer. Ambit helps manage wire clutter with a cable trough that secures and cleanly routes wires up the table's leg. This not only keeps wires safe and in good working condition, but it also makes for one less tripping hazard.
Easy to use
A user-friendly cover runs up and down the side of the table, smoothly peeling open so you can simply tuck cords in and keep them discreet. The hard cover is magnetic making it easier to add as many cables as you need while staying in place.
Specs
View the dimensions, materials, features, and available options for Ambit Vertical Cable Management.
Ambit Workspace Solutions
A comprehensive offering of accessories designed to support the sit-to-stand working environment, offering solutions to elevate your workspace.