Designed by George Nelson
Nelson Platform Bench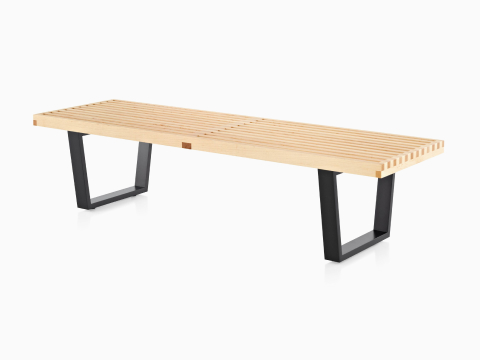 A bench that carries weight
Originally launched in 1947, the Nelson Platform Bench is aesthetically pleasing and functionally frank—a place to take a seat, wherever called for, just as George Nelson intended.

Enduring design
Nelson was an architect before becoming a designer, and the bench's rectilinear lines reflect his architectural sensibilities, as well as his insistence that a design should make an honest visual statement about an object's purpose. It's available in three lengths with polished chrome or ebonized wood legs.
Outstanding craftsmanship
The bench's flawless design is matched by close attention to detail in manufacturing. Solid wood slats that have been sorted into aesthetically pleasing combinations are assembled by hand and sealed with a clear-coat finish. The slats settle neatly into lap joints, making the bench as durable as it is arresting.
Spirited practicality
The aptly named platform bench earns its keep through functionality. It can be used as a foundation for the Basic Cabinet Series; a coffee table for books, laptops, and beverages; or a seat. Add a pillow or a Nelson Platform Bench Cushion to make the bench more comfortable.
Specs
Dimensions, materials, details, and available options that make up the Nelson Platform Bench.
Learn the full story
A design historian's perspective on how George Nelson's 1946 Platform Bench went from sidepiece to modern archetype