In 1959, George Nelson was asked by the U.S. government to design the American pavilion at the National Exhibition in Moscow, the first cultural exchange program between the U.S.and U.S.S.R. since the Russian Revolution. The pavilion would showcase American manufactured products. Nelson asked the Eameses to produce a film, to be shown in the pavilion, that would depict a day in the life of the U.S.
Charles Eames called his friend Henry Luce, the chair of Time-Life, to ask that he be allowed to use images from Time-Life's vast archive. Luce agreed, but told Eames he would have to return the favor one day. The Eames film was called "Glimpses of the USA," the first multiscreen slide show and a huge success.
A year after the Moscow exhibition, Luce called to ask the Eames design team to design a chair for his new building. The Eameses responded with the Time-Life chair, which we have been producing since 1960.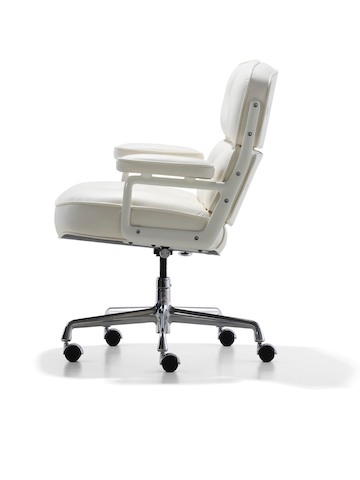 Making headlines
In 1972, the executive chair made the news when notoriously fussy chess genius Bobby Fischer included this chair among his many demands for his legendary 1972 world championship match with Russian master Boris Spassky. When Spassky got a look at the chair, he demanded one for himself, and a second chair had to be shipped pronto to Iceland, where the match was being held.