A major technical achievement
Aluminum Group chairs began as a challenge among legendary designers. Eero Saarinen and Alexander Girard were designing the Columbus, Indiana, home of J. Irwin Miller, founder of Cummins Engines. They wanted a high-quality seating product for outdoor use and asked Charles and Ray Eames to develop one. The Eameses accepted.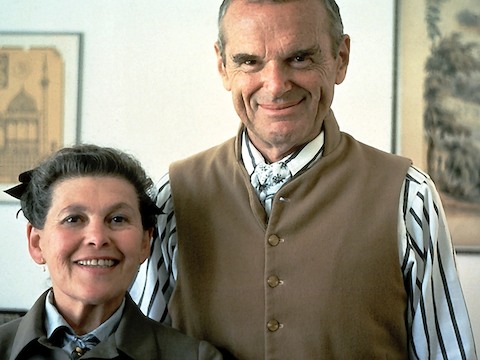 A challenge to the Eames team
Known for their honest use of materials, the Eameses constructed their chairs with cast aluminum and a seat frame meant to support a stretched synthetic mesh. The seat-back suspension was a major technical achievement and represented a departure from the concept of the chair as a solid shell.
A step up to luxury
We began making the Aluminum Group chairs in 1958. In 1969, the Eameses extended the original design by adding plush, individually upholstered cushions. They named these the Soft Pad chairs. The chairs' simple lines, innovative use of materials, and suspension comfort have kept them among the most popular seating choices for both offices and homes for more than 50 years.