Designed by Charles and Ray Eames
Eames Shell Task Chairs
A new iteration on an archetype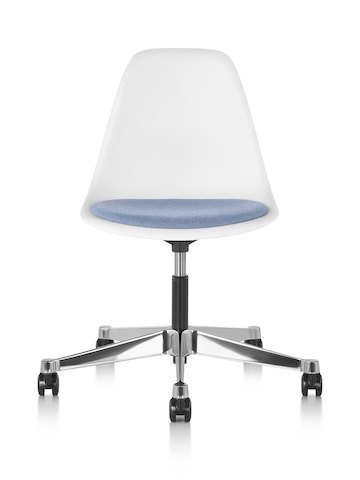 Eames Task Chairs
It beckons with an aesthetic and biomorphic shape that has become archetypal: the Eames molded shell, prized since 1950 for inventing a new paradigm for simple and comfortable, sophisticated and playful seating. In this iteration as the Eames Task Chair, the iconic chair steps up its service as a desk chair that provides effortless functionality and flexibility.
The Eames Task Chair marries the beloved molded one-piece shell design—in side chair or armchair versions—with a five-star base for just-right stability and a height-adjustable, swivel-mounted seat and casters for mobility. The molded fiberglass of the original Eames Shell Chair—with all its expressive surface variation—is once again available thanks to an updated environmentally friendly process. Most recently, the molded plastic shell evolved to include 100 percent post-industrial recycled plastic. The shell offers a customizable aesthetic; colors range from fresh to vintage pigments, available with or without full upholstery or a seat pad. The Eames Task Chair also offers a choice of bent wire or molded wood side chair shells. Whatever options you choose, Eames Task Chairs are look-good, feel-good form following function at their best.
Design Story
The Eames Shell Chair was born in 1950, a child of the visionary wife-and-husband design team, Ray and Charles Eames. The boundless creativity of these pioneers of modern furniture helped transform the home and office with form-fitting comfort, flexibility, and color.
A timeless favorite, the Eames Shell Chair's ongoing iterations affirm the Eamesian philosophy that "Design addresses itself to the need." As the need for versatile, comfortable seating has changed over time, so has their iconic single-shell chair, with new materials and bases extending its utility. The need for stylish, expressive seating for offices—including home offices—inspired the original four-star base, added in 1953. With the development of a five-star base, the Eames Task Chair once again sets the side and armchair shells on casters for use as a desk chair.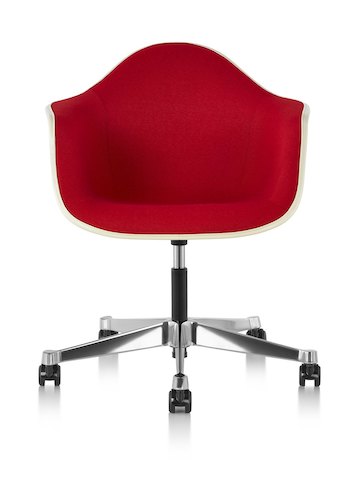 Herman Miller x HAY
Classic Eames designs thoughtfully reimagined by Danish design house HAY.

"The role of the designer is that of a very good, thoughtful host anticipating the needs of his guests."