Designed by Carol Catalano
Capelli Stool
Inspired by interlocking fingers, named after flowing tresses
Although the word "capelli" means "hair" in Italian, it was designer Carol Catalano's folded hands that inspired the ingenious construction of her Capelli Stool. In much the same way that fingers intertwine, the design's two identical plywood components lock in place—without tools or fasteners. Use Capelli as a seat or a side table, or unlock its stackable components for efficient storage when not in use.
Throwing Shade
Each molded plywood piece is composed of alternating dark- and light-stained hardwood inner plies with a light ash veneer.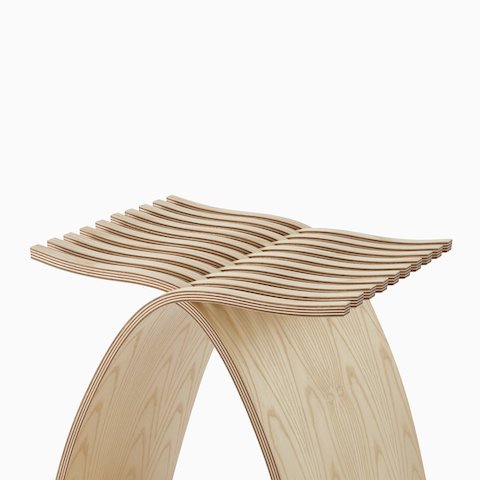 Ingenuity in Adaptability
The surfaces between the stool's interlocking "fingers" at the top of each piece provide the stops that hold each half of the stool firmly in place when assembled.
Simply Efficient
When disassembled, Capelli's two halves can be stacked and stowed away efficiently. To reassemble the stool, just fit the "fingers" back together. No tools, no fasteners, no trouble.
"The first thing I think about in any project is how I can simplify and enrich people's lives."