Designed by Charles and Ray Eames
Eames Molded Fiberglass Stool
An enduring, functional, beautiful form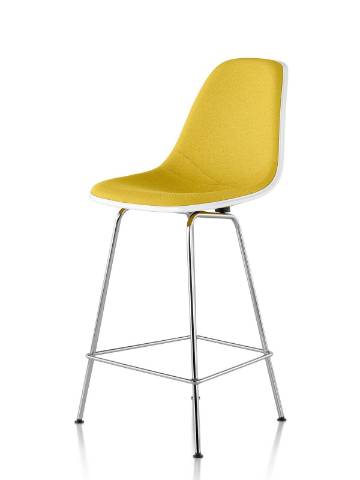 Eames Molded Fiberglass Stool
Charles and Ray Eames' iterative process continually pushed the boundaries of what a single-shell chair could be. The Eames Molded Fiberglass Stool represents the evolution of that process. Thanks to advances in safe fiberglass composition, the Eameses' distinctive single-shell form is safely produced by means of a less volatile, monomer-free "dry bind" process. A 4-leg base design based on the original 4-leg chair base makes it an ideal seating option at bar- or counter-height surfaces.
Like the original 1950 Molded Fiberglass Chair, the surface of the Eames Molded Fiberglass Stool features the same surface striation that has made the original chairs a covetable find for vintage collectors for decades. The process for making shells and the nature of fiberglass give each shell unique character traits that may include some surface cavities, areas of lighter or darker color, or faint circular shadows where stool base is attached to shell. Available in a choice of colors, the fiberglass shell can also be fully upholstered in an array of fabrics or outfitted with an upholstered seat pad for enhanced comfort.
The endless possibilities of a simple, gracious form
Discover all the ways Eames Shell Chairs can work for you.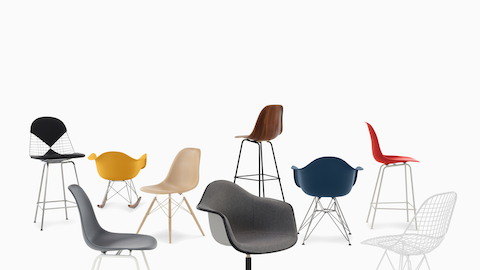 For every need
Charles Eames famously said, "The role of the designer is that of a very good, thoughtful host anticipating the needs of his guests." With the molded plastic, fiberglass, and wood shell chairs—as well as the wire chair—the Eameses have created a universal response to what everyone wants from a chair: a simple, gracious form that fits any body and every place.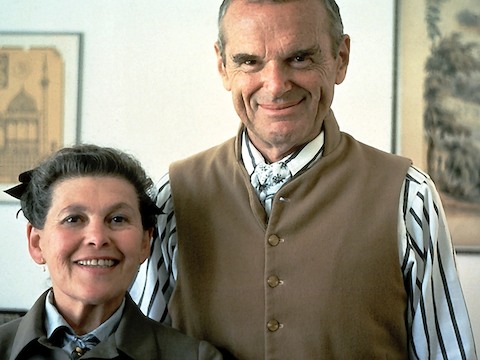 In every way
Borne out of Charles Eames and Eero Saarinen's early investigations molding plywood at Cranbrook Academy in 1939, and continued with Ray at the Eames studio in Venice, California, the molded chair is exemplary of the Eameses' iterative process and their desire to make "the best for the most for the least." With each new form, finish, and configuration, the Eameses continued to push the boundaries of what the shell chair could be. After experimenting with single-form plywood and stamped metal, they turned to fiberglass and experimented with bent wire. When fiberglass production proved unhealthy for the environment, the decision was made to switch production to a safer plastic. Now, with advancements in safe fiberglass composition, dynamic veneer technologies, and sustainable materials, the evolution continues with the Molded Fiberglass, Molded Wood, and Molded Plastic Chairs.
For everyone
The Eames Shell Chair was designed on the principle of adaptability, offering innumerable configurations to serve a wide variety of applications and environments. It's what makes the chair a classic worthy of museum collections—and living rooms, laundromats, lobbies, and cafés. It's what makes it a great first piece of furniture to buy in your twenties, that's still worthy and relevant enough to hand down to your children 20 years later. A diverse selection of shell, base, color, and finish options enable you to create your perfect chair. Just like every person, every chair has a story.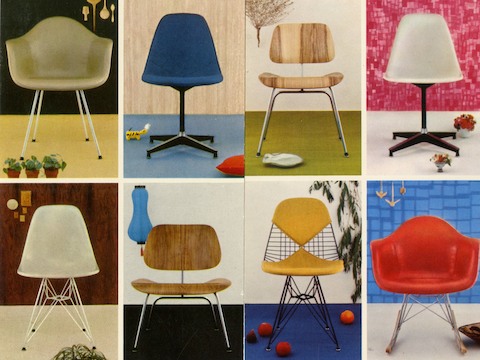 "The role of the designer is that of a very good, thoughtful host anticipating the needs of his guests."