Efficient and versatile for a broad range of applications

Yours is a complex world. Ethospace nurses' stations are designed to help you navigate it. Components can be customized to support whatever your technology, work process, and staffing needs are—today and tomorrow. They combine the proven flexibility, comfort, and durability of the Ethospace system with unique components designed specifically for clinical requirements.
Nurses update charts, physicians enter orders, a unit secretary records a new patient. It's a medication area, nourishment area, dictation area, storage area. The place where patients are monitored and digital images are studied, where colleagues consult and family and friends find help. It may serve anywhere from two to 20 caregivers, depending on the time of day.
Ethospace makes it easy to integrate technology, optimize work flow, and adapt to change. The system supports and helps manage traffic flow and access to patients, staff, and information in patient service areas. For critical care, these stations integrate computer and monitoring technology. They manage technology in emergency stations and help staff stay organized, even when used 24/7/365.

They also provide complementary solutions in nonclinical areas—satellite stations, decentralized stations, conference rooms, dictation offices, administrative offices, and reception.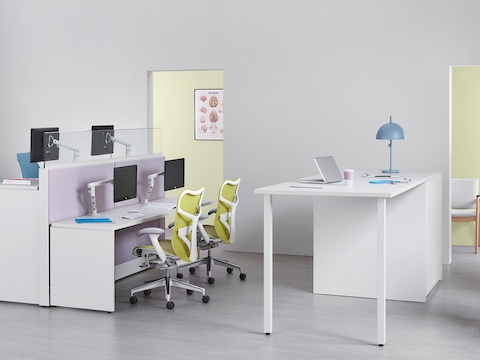 Versatile and adaptable
Critical or transitional care areas, smaller work areas throughout a patient floor, large centralized stations. The comprehensive Ethospace vocabulary makes it easy for you to design for ergonomics and change in all these settings. A unit secretary's long-term seated work and a nurse's on-the-move, stand-up work are both supported with a range of adjustable and mobile products.
Ethospace tiles attach to 3 1/2-inch-thick structural steel frames, supporting a great variety of looks and functions. Three connections—90-, 120-, 135-degree—provide numerous layout possibilities and use floor space most efficiently.

Arrange and rearrange as needed. Components can be easily reconfigured to create new charting or workstations, data and electrical access points, and storage areas. Stations can quickly adapt to new requirements; tiles, screens, and other components can be selectively replaced or rearranged with little disruption.

Ethospace can be customized to project an organization's identity and make a pleasing environment for patients, visitors, and staff.
Ongoing design support
Our clinical strategists will work with you to determine layouts for optimal work flow. All former nurse managers, they understand the work of your staff and the demands of your profession, from HIPAA requirements to patient-centered care, from paper management to computerized charting, from integrated radiology to monitoring systems.
Our design team will turn those layouts into plans, and our dealer experts will assist you with ordering and install your choices. We will continue to work with you after your initial installation, whether you're fine-tuning an application or reconfiguring an entire nurses' station.
Clean, inviting environments
Our materials, finishes, and textiles won't restrict your creativity but will meet cleanability and infection-control standards. Create the look you want with a wide selection of fabrics, finishes, and materials, including Corian surfaces, that are also compatible with our Co/Struc components.
Use custom fascia to express the image of your healthcare organization or the character of individual departments.
Ready for a change? Update the wall's look simply by switching out tiles.
Power options
Option 1: Modular electrical system. Factory-installed by Herman Miller.
Option 2: Hard-wired system. Field-installed when required by local electrical codes.
Open frame interior. Allows lay-in cabling and unmatched cable capacity; tiles remove easily for complete access to power and cables.