A new reference point in its class
Good design, healthy support, and exceptional value are always attractive—and Sayl delivers all three. By using smart engineering to transform simple materials, we were able to make Sayl attainable for more people. Sayl designer Yves Béhar and our development team considered and reconsidered every part of the design—and, in the end, created a full family of seating that sets the reference point in its class for quality, performance, and design
3D intelligent back
Sayl's unframed 3D Intelligent back lets you stretch and move, striking a healthy balance between support and freedom. The elastomer strands of the suspension back vary in thickness and tension to provide greater support in the transition areas along the spine and less everywhere else to encourage a full range of seated movement.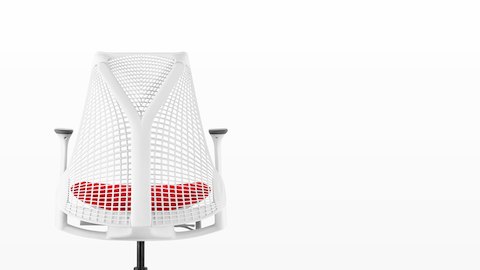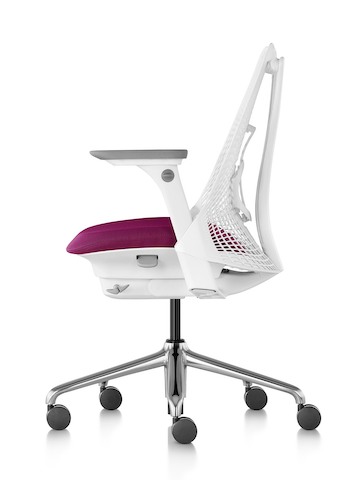 PostureFit
The construction of Sayl's 3D Intelligent suspension back provides passive PostureFit sacral support, which allows your spine to maintain its natural S shape and empowers your body to maintain a healthful posture with less fatigue.
Dynamic support
The foundational shell of the fully upholstered work chair mimics the 3D Intelligent suspension, providing similar dynamic support in a more traditional back. An optional lumbar support is available on both work chair models and provides adjustment over a 4-inch (10 cm) range.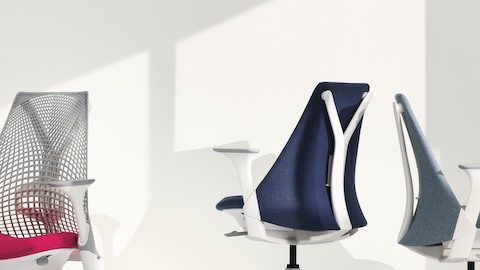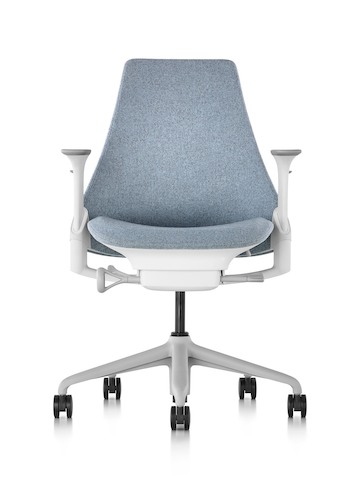 Aesthetic choices
Sayl's unframed back and Y-Tower support create a striking visual aesthetic that reveals both the designer's inspiration and intent. The stretch-knit back cover provides a softer, warmer aesthetic while maintaining the beauty, support, and breathability of Sayl's signature 3-D suspension back. A fully upholstered version is also available. Both offer an expressive palette that will complement any environment.
Responsible design
Inspired by suspension bridges—structures that deliver the most using the least material—Yves Béhar applied the engineering principles of these amazing structures to create Sayl. The Eco-Dematerialized design of the work chair uses less material in more inventive ways to provide ergonomic support for people up to 350 pounds (159 kg).

We produce Sayl on three continents to reduce the distance between the factory and the buyer. This product contains no PVCs and its materials are almost entirely recyclable.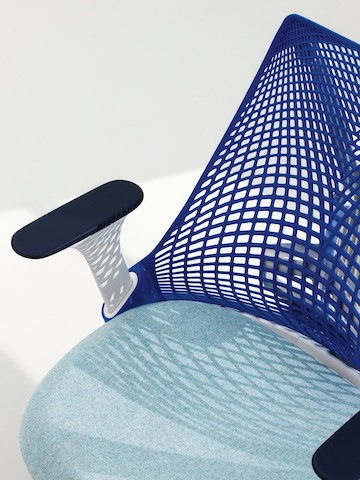 Chair Adjustments
Adjusting Sayl
How to tune and use your Sayl Chair for maximum comfort and support
Watch video
Chair Adjustments | 2:39
Adjusting Sayl
Tune and use your chair for maximum support