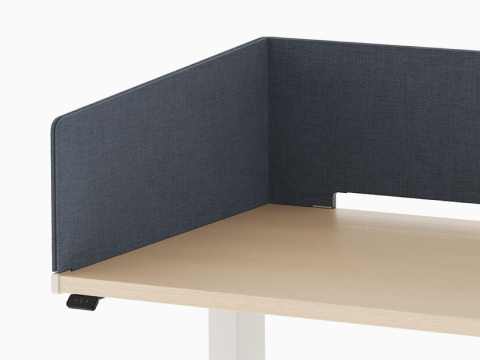 Personalize and privatize
Ambit Screens give you the privacy you need to focus in open office environments. Choose from a selection of materials and colors to create a beautiful look that complements a variety of styles and spaces. Designed to coordinate with Herman Miller height-adjustable tables. Available in multiple configurations. Part of Ambit Workspace Solutions.
Create boundaries for focused work
Whether standing or sitting at height-adjustable tables, Ambit privacy screens encourage user focus and remove distractions in open environments. Features a top-mounted or edge-mounted design.
Visual versatility
Available in multiple colors, choose from fabric or metal screens to make a bold statement or blend into the workplace seamlessly. Thin-profile fabric screens come in multiple configurations and are tackable on both sides. Top-mounted and edge-mounted designs allow you to make every fit personal. An optional liner on the metal screens comes in multiple colors for an inspiring accent.
Specs
View the dimensions, materials, features, and available options for Ambit Screens.
Ambit Workspace Solutions
A comprehensive offering of accessories designed to support the sit-to-stand working environment, offering solutions to elevate your workspace.