Bring design and quality to outdoor spaces
Because your outdoor spaces deserve the same quality of furniture as your interiors, we are pleased to offer the Eames Tables Outdoor. Suitable for terraces, patios, or al fresco dining areas in both warm and cool climates, our range of tables offers a durable and sturdy solution wherever a surface is called for. Round and square offered in a wide variety of sizes, surfaces, and heights enable you to select exactly the right weather-resistant table to suit your space and use.
A cut above
The first step in readying the Eames Tables Outdoor was to choose a selection of stone finishes that would be durable and provide a natural complement to the existing design, while also contributing a unique character of their own.
We sourced stones from four North American quarries and named them after their home state: Georgia White Marble, a luminescent stone from the same source that was used to create Daniel Chester French's 1920 sculpture of Lincoln at the Lincoln Memorial; Georgia Grey Marble, a cloudy grey stone from the same location used in the 2004 renovation of New York's Museum of Modern Art; Wisconsin Black Marble, a unique dark stone speckled with lustrous green and grey veins; and Quebec Graphite Granite, a subtly patterned granite composed of deep hues used to rich effect in Chicago's John Hancock Center
Once extracted, two centimeter-thick slabs of stone are cut to order with a bull-nosed edge and given an eggshell-like honed finish.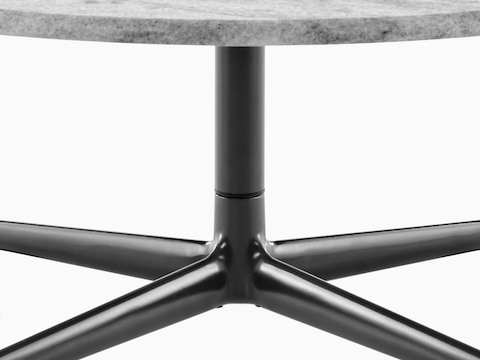 Built to last
No matter which base you opt for, the simplicity of Eames Tables Outdoor make them durable in appearance and fact. Tops and bases are connected with a bolt that runs the length of the column to ensure strength and durability through years of use.