Designed by Sam Hecht and Kim Colin
OE1 Micro Packs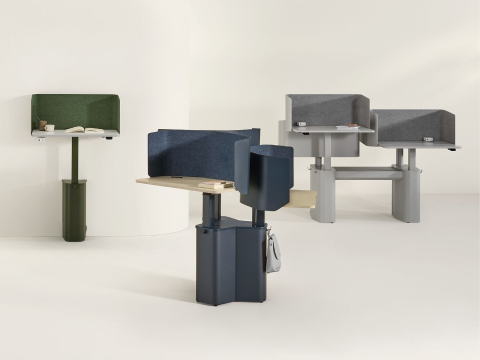 Height-adjustability in a small footprint
OE1 Micro Packs are height-adjustable workstations that add agility to every corner of the office. Part of the OE1 Workspace Collection.
Increase Your Office's Agility
OE1 Micro Packs are casual, sit-to-stand desks where people can drop in for a few minutes of focus—or do standing work away from their desks. Perfect for teams that fluctuate in size or visitors who need a place to land.
Choose Between Colorful Configurations
OE1 Micro Packs have a variety of options to choose from. Colors range from subtle to bold, and configurations come in single, three, and four-packs. So organizations can express their brand or identify team spaces with color—and get the right applications to fit their floorplan.
Make the Most of Your Space
Take advantage of under-utilized real estate with OE1 Micro Packs. They're an easy way to add height-adjustable workspaces and flexible functionality to in-between spaces like corners and hallways.
Specs
View the dimensions, materials, features, and available options for OE1 Micro Packs.
While designing OE1, Sam Hecht and Kim Colin deconstructed the traditional systems approach to office furniture. In the process, they created an agile collection that's ready for action in a changing world of work.