Designed by Jeffrey Bernett and Nicholas Dodziuk
Canvas Storage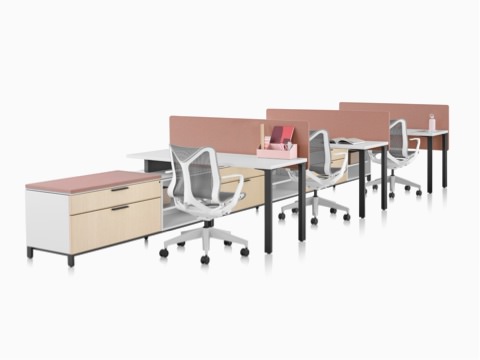 Canvas Storage is multifunctional storage that routes power and data and houses personal items and work tools. More than a place to keep your snacks, the system supports work surfaces and provides seating for colleagues who stop by to chat. Multiple material options harmonize with the rest of the Canvas Office Landscape.

Express Your Personality
Canvas Storage offers a broad array of material options to meet many price points and define an aesthetic. Whether you need to outfit a small space or a multi-level building, Canvas Storage can scale to meet your needs.
Be an Efficiency Expert
Wall, support, power router—you name it, Canvas Storage does it. This efficient system makes the most of real estate by defining boundaries and creating workstations, with the added benefit of hidden storage. Let Canvas Storage do some of the heavy lifting for your workstations.
Get Organized
Not only is Canvas Storage a triple threat in our workstation setup, it also keeps things in order and within arms' reach. From hidden storage to open shelving to accessory trays, Canvas Storage has options to suit diverse needs.

Canvas Lookbook
Get inspired by ideas for Canvas Storage, and get design resources to help you plan.
Shared Workspaces
Creates efficient spaces that pack power and perks in a small footprint
Products
Canvas Office Landscape
See how Canvas Office Landscape can work for you.