In This Together
To support and encourage family member participation in the healing process, Jess Sorel designed the Nemschoff Palisade Collection, a suite of furnishings that helps families feel welcome in the patient room.

Written by: Randall Braaksma
Artwork by: Jonathan Calugi
Not long ago, strict hospital visitor policies prevented family from keeping a close watch on their loved ones. Across the U.S., even the next-of-kin's ability to comfort, support, and protect the patient was often limited to a narrow window of visiting hours. Staying overnight in the patient room was nearly unheard of. But today, healthcare organizations are recognizing the value of adding loved ones to the patient's support team.
Evidence confirms the value of family members' presence. Following a recent renovation to create single-bed rooms at Methodist Hospital in Indianapolis, Indiana, with room for family members, falls were cut by two-thirds. Other studies have linked the presence of family members to less patient anxiety, lower mortality rates, and fewer medical errors.
While the need for accommodating family members in the patient room has become ever more apparent, the solutions for doing so have lagged behind. With a long history of addressing patient needs in healthcare environments, Herman Miller through it's former Nemschoff organization took on the challenge, and in 2013 the company's R&D group asked designer Jess Sorel of Sorel Studio in San Francisco to envision a better way to accommodate guests in healthcare facilities. WHY spoke with Sorel about how he addressed the issue with the design of the Palisade Collection.
The design brief for this project included the famous quote by Charles Eames: "The role of the designer is that of a very good, thoughtful host anticipating the needs of his guests." How did you respond to this?
I took this to mean that the accommodations had to host the guest, as well as signal a sense of welcome from the care facility. The hosting relationship had to be readily apparent. There had to be a place to put your things so you could immediately be with the patient because that's your primary reason for being there. How could we signal this to the visitor? That was one of the things I wanted to communicate, so that from the minute you walk into the patient room, you immediately see the elements that were created and know what they're there for. Then, the guest, who has been effectively cared for, can turn their attention to hosting the patient. I thought it was fascinating to think of hosting as not only a person-to-person relationship, but also something a space can communicate.
Beyond the idea of the Eames guest-host relationship, where else did you look for inspiration?
In my work, I reference domestic spaces a lot. These spaces have comfort and meaning. I wanted to bring a sense of comfort and familiarity to the patient room and take advantage of the cues that are common to our experience to provide a sense of personal space, security, and comfort. For example, one of my goals with the Palisade sofa was to make sure when it is converted for sleeping that the surface is low. The back and arms also come up six inches higher than the sleep surface, so it feels like a headboard and footboard of a bed or sleeping on a couch—a familiar experience that doesn't make you feel like you're going to roll off.
In healthcare, there's a focus on evidence-based design, design based on research. What findings influenced your design process?
I was especially interested in research that showed patients with guests assisting in their care were more likely to recover sooner, receive a better level of care, and rate their experience higher in satisfaction surveys. When the patient gets better quicker, he or she obviously benefits. So does the health system, because it can treat more patients, and those it cares for well will likely rate their experience at the hospital higher, which affects revenues. It's a real win-win.
And like so many people, I had my own personal experience. My stepfather was recently in the hospital with colon cancer. I was there for two weeks. It really brought the constraints home to me. I was trying to make sure he was doing okay, was comfortable, and getting the care he needed. I was trying to communicate with other family members, eat, and do some work to continue running my business. All of that stuff goes on simultaneously.
"The role of the designer is that of a very good, thoughtful host anticipating the needs of his guests."
- Charles Eames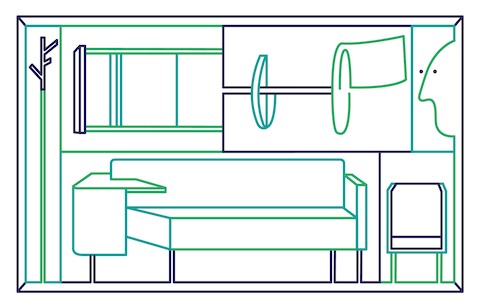 Accommodating different activities at the same time implies a series of constraints not unlike those Eames said a designer must willingly and enthusiastically work within. What other constraints were you dealing with?
I was asked to look at how to accommodate the guest, how to shift the experience for the guest. I looked at the whole space and all the activities going on in that space. I asked myself, how can a solution accommodate it all in a way that is highly intuitive?
Equally important were the needs to address space limitations in the patient room, and to provide for guests without them getting in the way of caregivers. In a medical emergency, for example, multiple caregivers need to get around both sides of the bed very fast. Anything mobile needs to be quickly moved. The space in patient rooms varies, but it's always at a premium. How do you create a tight footprint that's as accommodating as possible? With Palisade, for example, the sofa arms are fairly narrow so they're not taking up valuable space. The table element lives within the footprint of the sleeper. We made things the right size, creating a suite of elements that can be combined with other products, too.
And there's a whole other set of constraints that are specific to healthcare environments, right?
Of course. These places get used constantly, so durability is essential. We had to consider cleanability, so there's a clean-out gap that runs along the seat cushion on the sleep unit, for example. We put solid backs on the pieces so that if they're placed against a wall they won't collect moisture or dust.
What are some of the other elements in the collection that further contribute to accommodating family members?
The primary element that can affect the guest-host relationship is the sleep unit. There was a need to bring together the seating and sleeping aspects and provide some personal appointments, such as access to power.
Another key element is the stool. That was one of the gaping holes we identified in reviewing patient rooms. In my own experience and my wife's experience caring for her mother, we had nowhere to sit next to the bed that was conducive to conversation. In my wife's case, she and her father had to stoop over to hold her mother's hand. Hospital beds are adjustable, but they're still designed at a height that's convenient for caregivers. When you put a standard height chair next to a bed, the person sitting in the chair is looking up at the patient. All you want to do is get up close, sit there, hold their hand, and be at eye level to comfort them. You might be there for a while. The Stool meets this need. We've found it's also great for physicians to use.
"The primary element that can affect the guest-host relationship is the sleep unit. There was a need to bring together the seating and sleeping aspects and provide some personal appointments, such as access to power and the ability to control localized lighting."
- Jess Sorel
You mentioned your personal experience of having to balance caring activities with remotely running your business. How did you address that in the design?
I'm constantly traveling with my tablet, phone, laptop, and chargers and need a place to plug in. I wanted to make sure to accommodate that wherever possible. The Daystand is a stand-up height surface or desk that has optional power and data outlets, as do several of the other Palisade pieces. It can be a place for a guest to work or be placed near the bedside so caregivers can set down a tablet and talk to the patient.
If the issue of accommodating family members in the patient room has been around for some time, why has it taken until now to address it?
No one was thinking about the whole experience of the family member. No one was considering what the benefits would be if you unburdened that person so they could effectively and comfortably contribute to the care of the patient.