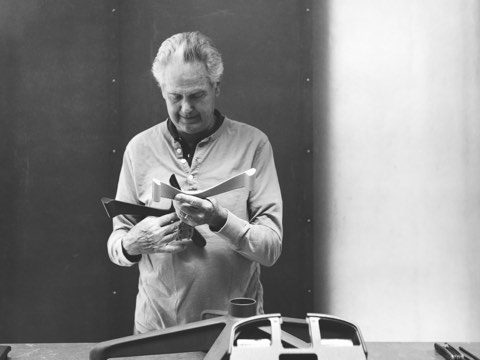 Even though Don Chadwick has achieved acclaim for his work on some of the world's most iconic furniture, he's still at it. He's still in Southern California. He's still getting his hands dirty. He's still refining his process and sharpening his eye for design. He's still having fun.

He continues to consider his constraints, using ergonomic elements like tilt mechanisms, elastomeric materials and casters to arrive at new designs. Having nearly half a century of celebrated innovations, he remains influential to industrial designers and furniture manufacturers the world over. His Modular Seating design for Herman Miller, which was originally introduced in 1974, relaunched at NeoCon in 2015.
An industrial design student at UCLA in the mid-1950s, Chadwick's focus on furniture sharpened after attending a lecture from celebrated designers Charles and Ray Eames. Ten years later, he had his own design studio in Los Angeles, a small space above a hardware store, where he spent much of his time trying to promote his ideas to manufacturers. "It started, I believe, in 1972," as Chadwick puts it, when Herman Miller paid him a visit. He's designed and co-designed some of the company's most recognisable products ever since. In the midst of his budding (and soon-to-be booming) career, Chadwick returned to UCLA to bestow his knowledge upon students as a professor, from 1976 to 1985.
An avid collector of art, Chadwick is no stranger to museums – and neither are his designs. The Aeron chair, an ergonomic icon he co-designed with Bill Stumpf for Herman Miller in 1994, became part of the Museum of Modern Art's permanent collection before it went into production.
Chadwick will admit that plenty has changed over the years, including his process. For instance, he's more attuned to the digital aspects of design like sketching on screen versus on paper. But there is one thing about Chadwick's design process that hasn't changed in the 44 years he's been designing: his curiosity. He continues to question the way designers and manufacturers use sustainable materials to improve the ways people live and work, through design.
"If you're not always looking at things and looking at them differently, with an overall curiosity, you're no longer a designer."
– Don Chadwick
Chadwick and his wife spend much of their time visiting art galleries or prospecting new restaurants in Los Angeles, as well as abroad. An avid documentarian, he seldom travels without his camera. His current favourite, a Sony RX100M3. He says of his photography, "I tend to look at everything. If it has some particular visual interest, I don't mind recording it. It doesn't have to be pretty, either."

Recently, Chadwick revisited his and Stumpf's most successful design, the Aeron chair. The designer and Herman Miller worked together for nearly two years to update almost every element of the chair for today's workers. With Chadwick's leadership, today's Aeron is re-engineered for better health, readjusted for better performance, reconsidered for a better fit and refined for modern environments.
Since childhood, Chadwick has found inspiration in the great outdoors. He still hikes the hills of West LA with Stanley, his Greater Swiss Mountain Dog, seeking the inspiration to influence his next design – however innovative it may be. "I still have the excitement," says Chadwick. "And the curiosity. That's what's important. If you're not always looking at things and looking at them differently, with an overall curiosity, you're no longer a designer."