Beauty, elegance, respect
We asked designer Yves Béhar to design a highly affordable chair that would incorporate everything Herman Miller is known for – beautiful design, first-class ergonomics, elegant engineering and respect for the environment.
Suspending a chair
Béhar, who calls San Francisco home, began by looking at designs that deliver the most with the least. And then he took a look at his city's best-known landmark: the Golden Gate Bridge. Béhar wondered, could the engineering principles of a suspension bridge be applied to a chair?
The notion of using a suspension tower to support an unframed suspension back meant that the flexible elastomer suspension material could be stretched in a way that provided the greatest tension at points where support is needed and the least in areas that would allow for the most expansive range of motion.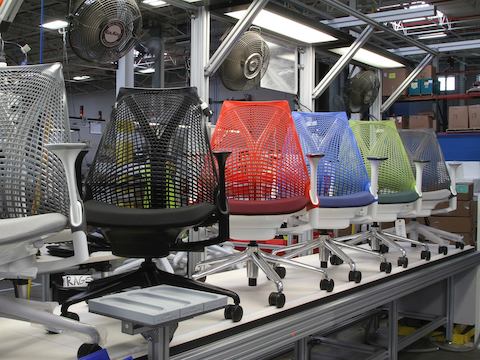 Something unique
So why "Sayl", rather than, say, "Bridge"? Take a look at the chair from the side. See the resemblance to a full mainsail? The name reflects the sailing vessels that pass beneath the bridges that inspired the original design. Replacing the "i" in "sail" with a "y" is a nod to the innovative Y-Tower structure of the work chair.