Fully Nelson
At the end of a leafy residential street in Kalamazoo, Michigan, a remarkable home designed by George Nelson is as liveable today as it was 55 years ago.
Written by: Sam Grawe
Artwork by: Paul Barbera
"Sally and I are again toying with the idea of building a house," begins a letter from James Kirkpatrick dated 8 February 1954. "You will recall that you looked over the rather grotesque plans that were made up for us by a local architect at some substantial cost," he continues, "and I in turn recall that upon looking at the plans you indicated they were not for us, which we both certainly agreed with."
The recipient of the letter, and the "you" in question, was none other than George Nelson, husband of Sally Kirkpatrick's college roommate Frances "Fritzi" Nelson. And so in this unassuming correspondence between family friends begins the story of a rather remarkable home. Over the course of the next four years, Nelson, along with his associate Gordon Chadwick, would execute a highly personalised design, a home tailored to the members and lifestyle of the Kirkpatrick family. This in itself is not remarkable; it could be said of any architectural commission. What makes the Kirkpatrick House so special, then and now, are the universal qualities that transcend the specifics.
The best Nelson designs, be it a clock, chair or in this case a home, share that same elusive trait. His view of design allowed for both a modular system and a Mannerist quirk. As an "architect in industry" (as he defined himself in the introduction to the 1948 Herman Miller Collection catalogue), Nelson was responsible for creating consumer goods that would sell. In the Kirkpatrick House, it becomes clear that this mentality affected his practice of architecture in equal measure. A product had to be unique to stand out on the market, but it also had to appeal to a wide array of people to be successful. Even in the execution of this private home for personal friends, Nelso's brand of modernism fully embraces this duality.

The Kirkpatrick House is also remarkable in that it was designed and built during what was arguably the pinnacle of Nelson's career. To paint a picture of his expansive interests and engagements at the time, in 1954 he had recently co-authored four books (Chairs, Living Spaces, Storage and Display); was leading the operations of his eponymous industrial design and architecture offices and was also the Design Director of Herman Miller, design consultant to General Electric and Howard Miller, Chair of the Aspen design conference, Advisor to the School of Fine Arts at the University of Georgia and consultant and exhibition designer for the United States government. If Nelson alluded to the "architect in industry", this flurry of activity is more like the "architect as industry".
Still Nelson found time to work out a design in the months that followed. In July 1954, he sent Kirkpatrick an enthusiastic note: "We have completed some preliminary sketches and are beginning to get rather steamed up about some of the possibilities." The letter describes elements of the plan, including "a private two-storey apartment which can be completely closed off from the rest of the house". This he describes in greater detail: "To bring some fun into the house we have set up the living room end as a two-storey cage using a lot of glass, with your bedroom sitting on a kind of bridge above part of it. Obviously there is no sound barrier between the living room and master bedroom, but it was assumed that if the bedroom was being used, the living room would be out of action. The feeling of open space that one would thus obtain could be kind of wonderful."
The suspended bedroom, bookended by double-height volumes, does indeed give a wonderful feeling of open space. At one end, skylights illuminate a kiln-like freestanding fireplace and hanging planters. At the other, a huge bank of windows opens onto the bedroom balcony and living room.
"Obviously there is no sound barrier between the living room and master bedroom, but it was assumed that if the bedroom was being used, the living room would be out of action."
- George Nelson
"To put it mildly, Sally and I were thrilled with the house plans and the appearance of the model," Kirkpatrick replied. "We did nothing for the next two nights but sit on the porch and talk about it in all of its ramifications." In a humorous indication of the era, the note continues, "Sally brings out the woman's practical aspect of the window cleaning required for as much glass as is anticipated, both internally and externally, but no doubt there are also answers to that problem."

Windows also flank the south and north elevations. On the second level a string of four modest bedrooms all offer views to the north. The upper and lower hallways to the south are lit by double-height windows, which call to mind the design of a greenhouse. A staircase with treads cantilevered from the redwood wall and suspended by a bank of ceiling-height balusters almost comes off as showy given the low-key character of the design.
Nelson didn't rely on natural light alone. Borrowing a trick from Alvar Aalto's Baker House dormitory at MIT, he placed exterior lights directly over the skylights above the fireplace and the second-floor games room (where they are the only windows). Spotlights are also situated at regular intervals below the extended eaves of the roof, providing a kind of intermediate lighting for the exterior and interior. In the low-ceiling family room, a semi-circle of low-voltage lights operate off an industrial-scale rheostat and offer an intimate glow.
"Sally brings out the woman's practical aspect of the window cleaning required for as much glass as is anticipated, both internally and externally, but no doubt there are also answers to that problem."
- James Kirkpatrick
Naturally, the Nelson office also provided a scheme for the home's interior design. In a letter from 1955, Nelson writes, "We are using your house as a kind of guinea pig for our furniture projects, and we are going to try to work out all the furniture for the house without recourse to stuff currently in production. The beauty of this scheme is that the furniture design is paid for anyway out of the furniture budget, and we can obtain the finished samples at a cost which would be no greater than that of production items. If this doesn't add a great deal of entertainment value to the interiors, I would be greatly surprised." When the home was completed three years later, Nelson's aspirations for customised furnishings hadn't fully materialised, but his office did devise a one-of-a-kind sofa for the family room (that unfortunately is no longer with the home). Intended to sit directly below the ring of dimmable lights, the semi-circular section featured table surfaces, storage and, with the home's many built-in features, shares an undeniable affinity with Nelson's work at Herman Miller.
In fact, it was thanks to the house's many covetable and archival pieces that the Kirkpatrick House was rediscovered and restored. A long-time collector of vintage Herman Miller furniture, the present-day owner Dave Corner found the home nine years ago, after coming to see the then owner about possibly buying a set of rosewood dressers in the master bedroom. "I asked him point-blank to call me first if he was ever considering selling the house," Corner recalls. "A year later I got the call."
Now after almost a decade of dedicated research and work, Corner has fully restored the Kirkpatrick House, even down to Nelson's original colour scheme. In contrast to the relatively modest scheme and materials, Nelson's office devised an outlandish colour scheme that presages the acid-fuelled palette of hippie Haight-Ashbury by a decade. Interior designers Robert Rohrich and Delores Engle of the Nelson Office used 20 different colours, selecting up to four colours per room and playing surfaces and planes off each other with unlikely pairings. In a 1957 letter to the Kirkpatricks, Rohrich offers a word of caution: "In regard to this colour scheme, please check with your two sons to see if they have any violent reactions to the colours for their bedrooms."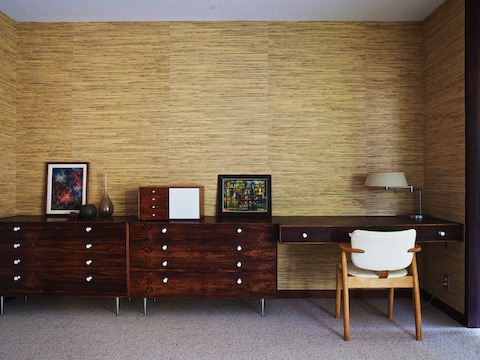 The original plans labelled every surface, from kitchen drawer to bedroom wall, with a mixed code of letters and numerals. But there was no corresponding rubric. Scraping away at the walls or working from old photographs wasn't a viable option, and Corner searched for six years before uncovering the answer. He then came across the Container Corporation's Colour Harmony Manual, a leather-bound book offering a scientific approach ("Taking the Guesswork Out of Colour") and page upon page of saturated hexagonal colour chip arrangements denoted by both letters (for the hue) and numbers (for the brightness). With the proverbial Rosetta Stone in hand, Corner easily went about repainting the home, but was shocked by some of the combinations. "I'm not sure what they were thinking with this bright green door next to this redwood wall," he jests. For his efforts, Corner now inhabits a designated local landmark and the ultimate environment in which to live and enjoy his collection of vintage Nelson and Herman Miller designs.
In one of Kirkpatrick's early letters to Nelson, a comment stands out for its clarity: "We are not so much concerned about the appearance of the outside," he writes, "as we are about the liveability of the inside." In many ways, "liveability" is one of the words that best sums up Nelson's work. To Nelson, design wasn't some kind of theoretical, intellectual exercise; it was a way of seeing solutions to problems that people faced. It was a service. Throughout his career, Nelson advocated solutions – from seating to city plans – that would improve the way people lived. He constantly searched for a better way to do things, and spared no contempt for the thoughtlessness and failures he identified in the world around him. Ultimately Nelson may be better remembered for quirky clocks than practising architecture, but on a wooded lot in Kalamazoo, powerful evidence of his vision lives on.
"We are not so much concerned about the appearance of the outside as we are about the liveability of the inside."
- James Kirkpatrick