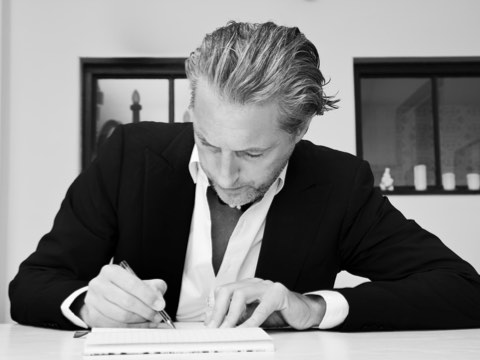 Products by Marcel Wanders

An award-winning chair made out of knots and a chandelier called Happy Hour are just two of the more iconic—and fun—creations that have come from the fertile mind of Dutch designer Marcel Wanders.

It's not that he doesn't take design seriously; it's just that boring is the last thing he wants to be. "There's enough of that in life as it is," he says. "I'm interested in designing things that will excite people and make them feel alive."
Wanders graduated cum laude from the School of the Arts Arnhem in 1988. It was there that he began to form his philosophy on design, more focused on people than things. "You don't design for industry, but for individuals," he says. And with that he crosses boundaries with a distinct style and originality.
More romantic than renegade, Wanders talks about looking into people's hearts to understand their needs. Perhaps his mission statement summarizes it best: "Here to create an environment of love, live with passion, and make our most exciting dreams come true."
"I'm interested in designing things that will excite people and make them feel alive."
- Marcel Wanders
When designing the Troy chair for Magis, his goal was to combine modern design with classical influence. "I think it is a lovely balance between old and new," he says. "Of course, my goal with any chair is not only that it looks good, but that it feels wonderful for the person sitting in it." He also strives for durability, "creating things that people will keep forever."
Wanders has taught at several art academies in the Netherlands, hoping to impart his philosophy to the next generation of designers. "Many people notice design only when it fails," he says. "I want to inspire designers to make things that people will love because they work so well."
A cofounder and artistic director at design label Moooi, he currently works with a variety of international clients including Cappellini, Alessi, KLM-Royal Dutch Airlines, Magis, Google, Target, and M.A.C. cosmetics. His prolific body of work, ranging from fashion accessories to lavish hotels, is represented in museums around the world, including the Museums of Modern Art in both New York and San Francisco and the Stedelijk Museum in Amsterdam.